Shares of JPMorgan Chase (NYSE: JPM) just passed a major benchmark, trading for more than $100 for the first time. Spurred by the performance of the bank's stock over the past decade, the accomplishment is a testament to JPMorgan Chase's prudent and profitable approach to banking under chairman and CEO Jamie Dimon.
The nation's biggest bank by assets crossed the $100 per share threshold this week, eclipsing the mark in intraday trading on Tuesday, when it climbed to $101.19 per share. Since then, JPMorgan Chase's stock has closed above $100 per share for four consecutive days.
While the New York-based bank is one of the best-run institutions in the financial services sector, it's not as if its stock has dramatically outperformed its peer group.
You can see this by comparing JPMorgan Chase's stock performance over time to the KBW Bank Index, which tracks two dozen large-cap bank stocks. Yes, JPMorgan Chase outperformed it, but not by a huge degree. Over the past five years, it's up 147% compared to the KBW Bank Index's climb of 109%.
| Period | Performance of JPMorgan Chase Stock | Performance of KBW Bank Index |
| --- | --- | --- |
| Year to date | 18.3% | 11.7% |
| 1 year | 47.7% | 37% |
| 3 years | 73.8% | 48.1% |
| 5 years | 147.1% | 108.8% |
Source: YCharts.com.
This is a perfect example of the saying that a rising tide lifts all boats. Virtually all bank stocks have rallied, especially over the past 12 months, as interest rates inch higher, credit losses have dropped to record lows, and optimism grows toward deregulation and tax reform.
But just because JPMorgan Chase's stock is now trading for more than $100 a share doesn't necessarily mean it's expensive. This is an important distinction. "Price is what you pay and value is what you get," Warren Buffett said.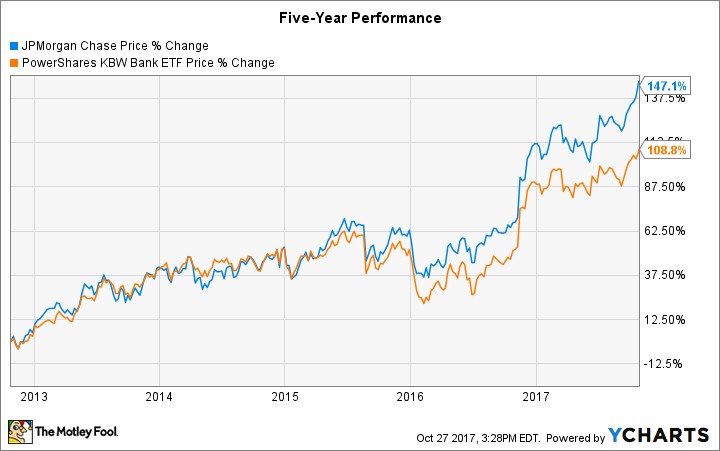 To determine if it's a good investment at its current price, you have to look at its valuation. The best statistic given where we are in the cycle is the price-to-earnings ratio, or P/E ratio. This tells you how much you have to pay for each dollar of a company's earnings when you buy its stock.
In JPMorgan Chase's case, its P/E ratio for its anticipated earnings over the next year is 14.8, according to YCharts.com. That compares to an average on the KBW Bank Index of 15.8. And the average among large-cap stocks more broadly -- the S&P 500 -- is 19.6, according to Birinyi Associates.
In short, if anything, even though JPMorgan Chase's stock just crossed the $100 mark, it continues to look reasonably priced relative to other bank stocks as well as the broader market.
10 stocks we like better than JPMorgan Chase
When investing geniuses David and Tom Gardner have a stock tip, it can pay to listen. After all, the newsletter they have run for over a decade, Motley Fool Stock Advisor, has tripled the market.*
David and Tom just revealed what they believe are the 10 best stocks for investors to buy right now... and JPMorgan Chase wasn't one of them! That's right -- they think these 10 stocks are even better buys.
Click here to learn about these picks!
*Stock Advisor returns as of October 9, 2017
John Maxfield has no position in any of the stocks mentioned. The Motley Fool has no position in any of the stocks mentioned. The Motley Fool has a disclosure policy.