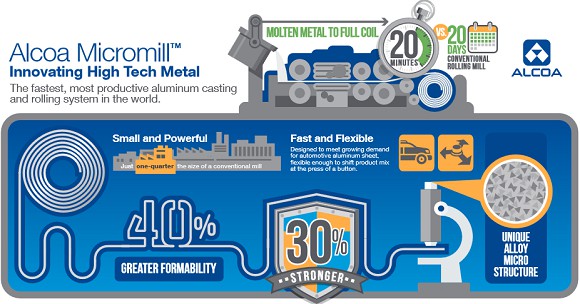 With just a $12 billion market capitalization, metals specialist Alcoa (NYSE:AA) seems like an unlikely candidate for the focal point of earnings season each quarter. Yet tradition carries a lot of weight on Wall Street, and for years, the metal maker's early reporting date has given Alcoa the role of leading market analysts into the new quarter. With Alcoa set to report on Oct. 8, many investors see the company's anticipated slowdown in revenue and earnings as a signal for what's likely to be another quarter of weak results marketwide. Let's look more closely at how Alcoa has fared over the past few months and whether it can defy the consensus forecast for a poor showing to start off fourth-quarter earnings season.
Stats on Alcoa
| | |
| --- | --- |
| Analyst EPS Estimate | $0.15 |
| Change From Year-Ago EPS | (52%) |
| Revenue Estimate | $5.70 billion |
| Change From Year-Ago Revenue | (8.7%) |
| Earnings Beats in Past 4 Quarters | 3 |
Can Alcoa earnings lighten up the stock market's mood?
Over the past few months, investors have been increasingly concerned about how well Alcoa earnings are likely to fare, cutting their third-quarter estimates by nearly a dime per share and making roughly 20% reductions in their projections for the full 2015 and 2016 years. The stock has followed suit, losing about a sixth of its value since mid-June.
Alcoa's second-quarter financial report once again revealed some of the difficulties that the company has had to overcome lately. For the first time in more than a year, Alcoa's earnings fell short of what investors had expected to see, even though the company managed to boost its revenue...
More