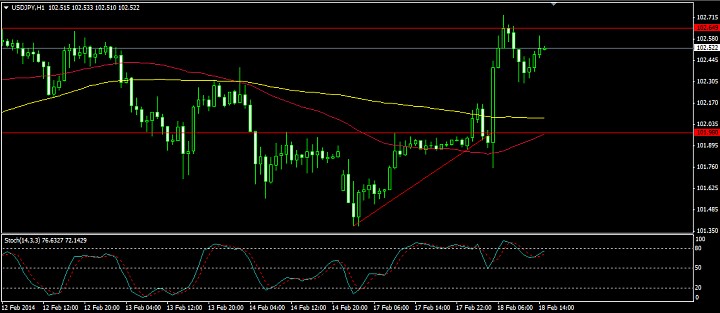 The USD took a ride after the Bank of Japan (BOJ) released its Monetary Policy Statement. Before the release of the data, the pair was consolidating between the two contracting trend lines forming an ascending triangle which gave a bullish signal. The pair broke the resistance at 101.98 and continued its uptrend. The 50 Day Moving Average acted as a support for the pair helping it rally. 
The Bank of Japan in its Monetary Policy said that it will conduct money market operations so that the monetary base will increase at an annual pace of about 60-70 trillion yen. The BOJ also decided to double the scale of fund provisioning measure to stimulate Bank lending facility and to support strengthening the foundations for Economic growth and to extend the application period for these facilities by one year which were due to expire shortly. The BOJ expects Japan's economy to continue a moderate recovery and the Inflation rate to be around 1.25% for some time. Risk to the outlook may come from the emerging and commodity exporting economies, European debt problems and pace of recovery in US economy.
After rallying the pair found resistance at 102.649. The USD/JPY seems bullish, and might break this resistance as well, to continue its uptrend.