Looking for reliable growth in this crazy investment climate?
Phillips 66 (PSX - Get Report) is one energy company that is largely immune to the gyrations of oil and gas prices. Small wonder that Warren E. Buffett's Berkshire Hathaway has scooped up a major stake in the firm, despite persistently low prices in the energy patch.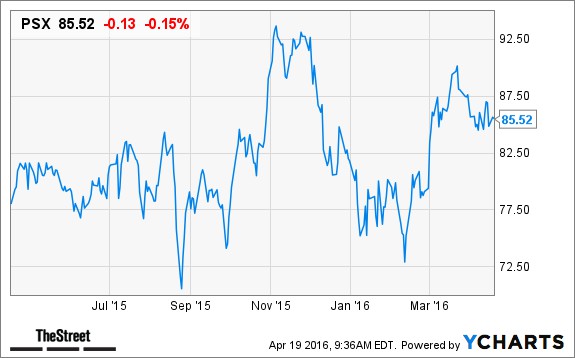 Resurgent energy companies propelled a rally in broader markets on Monday, as investors responded to another plunge in oil prices with a collective shrug. Chevron gained 1.51%, and ExxonMobil rose nearly 1%.
In the wake of news that officials from 18 major oil-producing nations meeting over the weekend in Doha, Qatar, failed to hammer out an agreement to reduce output, the price of the U.S. benchmark crude plummeted 1.4%.
But that is all background noise to Phillips 66, which is scheduled to report first-quarter earnings on April 29.
The average analyst estimate for earnings is 96 cents a share, and it is $1.71 on the high end, compared with $1.51 a year earlier. Full-year earnings are expected...
More