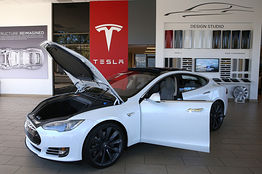 Osbourne is now modeling for just 2,250 Model 3 deliveries, well below his previous model of 9,100 and below what he believes is the consensus (about 5,000). He admits that the fourth-quarter deliveries aren't important to the long-term view of the company, but writes that the run-rate production levels will be more telling, and Tesla could finally be getting some kinks out of the production process.
That said, even with the enthusiasm surrounding the Model 3 and the fact that Tesla's strong 2017 meant that his bearish call hasn't worked yet, Osbourne is sticking with it, warning investors of trouble ahead:
[W]e still are convinced that investors aren't fully acknowledging the competitive threat that is growing in 2018 and 2019 in the EV segment, and the cash burn that Tesla will experience in the coming years (the narrative in the last few months has shifted from cars to Class 8 trucks and recently pickup trucks). The recent bond offering is now trading below par and we believe another equity raise will be needed in the next 3 to 6 months. The narrative around high volume manufacturing of the Model 3 and hitting the 25% gross margin target will need to be amplified by management in order for investors to digest such a capital raise in our view. We also hope for more transparency on what Elon Musk's overall vision will truly cost as we believe investors are overlooking many aspects of his total vision and myopically focused on the upcoming quarter or two.
For a different take: Tesla Will Disappoint Again. Here's Why You Shouldn't Care.
Tesla is up 3% to $320.53 this morning.
More