Brasilia, Brazil (CNN)Brazilian lawmakers shouted, scuffled and even sang as they debated whether to impeach the country's President on Sunday.
And after more than six hours of voting and fiery speeches, the results didn't fall in President Dilma Rousseff's favor.
When the final tally was announced, 367 lawmakers had voted to impeach, comfortably more than the two-thirds -- 342 -- needed to pass the motion. Only 137 voted against the proposal, while a handful abstained.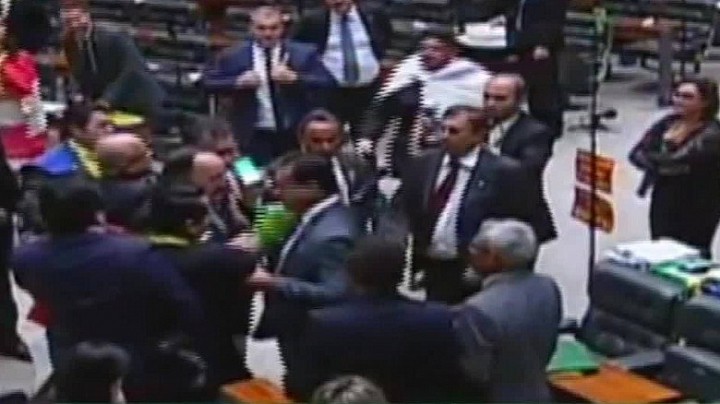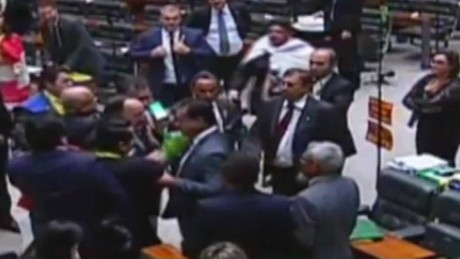 Mayhem breaks out in Congress ahead of vote 00:52
The impeachment motion will next go to the country's Senate. If a majority approves it there, Rousseff will have to step down for 180 days to defend herself in an impeachment trial.
Rep. Bruno Araujo was triumphant as he cast the symbolic 342nd vote against Rousseff Sunday night, passing the two-thirds mark and securing the majority needed to move forward.
"It's an honor, what an honor that destiny has reserved for me. ... From my voice will come the scream of hope for millions of Brazilians," he said.
If the motion is approved, Rousseff could be suspended as early as May. That would be about three months before the Summer Olympics kick off in Rio de Janeiro, an event that was supposed to showcase Brazil as a rising power on the global stage.
Sunday's vote came after weeks of raucous debates inside Brazil's Congress and rival protests outside.