This should be good...
*OBAMA SAYS ECONOMIC PROGRESS HAS BEEN 'STEADY'; 'IT IS REAL'
*OBAMA SAYS ECONOMIC FAIRNESS IS 'DEFINING CHALLENGE' OF TIME
*OBAMA SAYS OBAMACARE HAS RESTRAINED HEALTH-CARE PREMIUMS
*OBAMA: U.S. CAN SHORE UP FINANCES WITHOUT 'MINDLESS AUSTERITY'
Crucially, we should all know how much better things are than 2008 - so America will vote for his colleagues...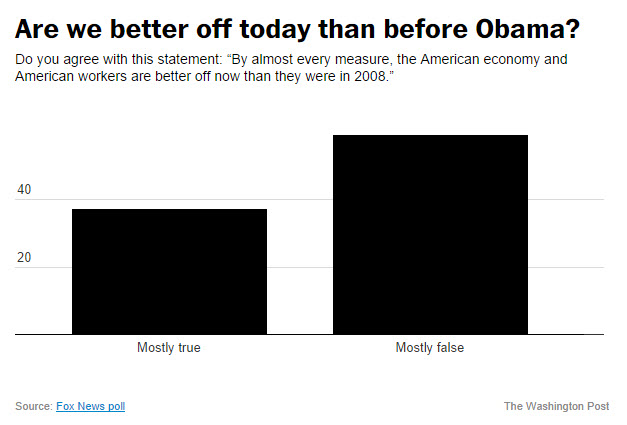 While discussing the 2014 election on Sunday's "60 Minutes," President Obama took a page out of Ronald Reagan's book:
I can put my record against any leader around the world in terms of digging ourselves out of a terrible, un -- almost unprecedented financial crisis. Ronald Reagan used to ask the question, "Are you better off than you were four years ago?" In this case, are you better off than you were in six? And the answer is, the country is definitely better off than we were when I came into office, but now we have to make...
Steve Kroft interjected, asking Obama whether that's a good question to be asking -- whether people actually feel the improvement. And Obama seemed to concede the point.
"They don't feel it," Obama said. "And the reason they don't feel it is because incomes and wages are not going up."
This Obama should probably have a chat with the Obama who brought up the whole "Are you better off" thing in the first place. Because, as an electoral strategy, it leaves something to be desired.
See chart below for guidance...