We expect Ionis Pharmaceuticals, Inc. IONS to beat expectations when it reports third-quarter 2017 results on Nov 7.
Last quarter, the company reported a wider-than-expected loss, resulting in a negative surprise of 50%. The company has missed estimates twice in the four trailing quarters while beating the same on two occasions, delivering an average positive earnings surprise of 21.90%.
Notably, Ionis' share price has increased 19.4% year to date, compared with the Zacks classified industry's decline of 0.2%.

Let's see how things are shaping up for this announcement.
Earnings Whispers
Our proven model shows that Ionis is likely to beat estimates this quarter as it has the right combination of two key ingredients – a positive Earnings ESP and a Zacks Rank #1 (Strong Buy), 2 (Buy) or 3 (Hold) – which have a significantly higher chance of beating earnings.
Zacks ESP: Earnings ESP, which represents the difference between the Most Accurate estimate and the Zacks Consensus Estimate, is +150%. This is because the Most Accurate estimate is pegged at 5 cents per share while the Zacks Consensus Estimate is pegged at 2 cents per share. You can uncover the best stocks to buy or sell before they're reported with our Earnings ESP Filter.
Zacks Rank: Ionis' currently carries a Zacks Rank #1, which when combined with a positive ESP makes us reasonably confident of an earnings beat.
Note that we caution against stocks with a Zacks Rank #4 or 5 (Sell-rated) going into the earnings announcement, especially when the company is seeing negative estimate revisions.
Factors to Consider
Ionis earns revenues in the form of upfront, milestone and other payments under its partnerships with leading health care companies like Biogen Inc. BIIB and Glaxo. These agreements also validate the company's technology platform.
Ionis and Biogen received FDA approval for Spinraza in December 2016 for treating spinal muscular atrophy ("SMA"). The drug was approved in Europe in June 2017 as the first treatment for SMA. Ionis had entered into a collaboration agreement with Biogen to develop and commercialize Spinraza in 2012. Moreover, as part of the licensing agreement with Biogen, Ionis earns royalties on Spinraza sales from Biogen.
Last week, Biogen released its third-quarter 2017 results and announced that Spinraza has witnessed strong demand in the United States, which drove sales. The company is working on expanding access to all patients.
In June 2017, Spinraza received approval in Japan, which earned Ionis $40 million in milestone payments in August. Moreover, Ionis received another $10 million from Biogen associated with the validation of an undisclosed neurological disease target.
Apart from Spinraza, we expect investor focus to be on pipeline updates at the third-quarter conference call.
During the quarter, Ionis and Akcea submitted regulatory applications to the European Medicines Agency ("EMA"), the FDA and Health Canada for volanesorsen for the treatment of patients with familial chylomicronemia syndrome ("FCS"). We note that in March, the companies had announced positive results from the Phase III APPROACH study of volanesorsen in patients with FCS. In fact, the companies believe that volanesorsen has the potential to be the first treatment option for patients suffering from the daily burden as well as the life-threatening risks of FCS.
Notably in August, Ionis announced that Glaxo has declined its option to develop Inotersen and IONIS-FB-L Rx. Ionis now retains all rights to the candidates and will develop them independently. Ionis announced data from a completed phase III study in May, which demonstrated significant improvement in neurological disease progression and quality of life in patients with hereditary TTR amyloidosis.
Ionis has several early to mid-stage pipeline candidates for various indications. We expect the company to provide updates on different studies, including the path forward for Inotersen, in the third-quarter earnings call.
Ionis Pharmaceuticals, Inc. Price, Consensus and EPS Surprise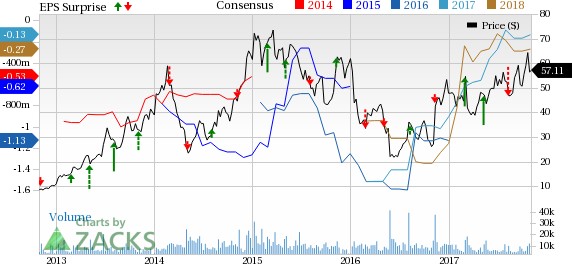 Ionis Pharmaceuticals, Inc. Price, Consensus and EPS Surprise | Ionis Pharmaceuticals, Inc. Quote
Other Stocks to Consider
Here are some health care stocks that you may also want to consider, as our model shows that these have the right combination of elements to post an earnings beat this quarter.
Agenus Inc. AGEN has an Earnings ESP of +8.11% and a Zacks Rank #2. The company is scheduled to release results on Nov 7. You can see the complete list of today's Zacks #1 Rank stocks here.
Myriad Genetics, Inc. MYGN has an Earnings ESP of +1.04% and a Zacks Rank #2. The company is scheduled to release results on Nov 7.
More Stock News: This Is Bigger than the iPhone!
It could become the mother of all technological revolutions. Apple sold a mere 1 billion iPhones in 10 years but a new breakthrough is expected to generate more than 27 billion devices in just 3 years, creating a $1.7 trillion market.
Zacks has just released a Special Report that spotlights this fast-emerging phenomenon and 6 tickers for taking advantage of it. If you don't buy now, you may kick yourself in 2020.
Click here for the 6 trades >>
Want the latest recommendations from Zacks Investment Research? Today, you can download 7 Best Stocks for the Next 30 Days.
Click to get this free report
Myriad Genetics, Inc. (MYGN): Free Stock Analysis Report
Biogen Inc. (BIIB): Free Stock Analysis Report
Agenus Inc. (AGEN): Free Stock Analysis Report
Ionis Pharmaceuticals, Inc. (IONS): Free Stock Analysis Report
To read this article on Zacks.com click here.
Zacks Investment Research