European refiners are already enduring the worst slump in decades. A growing heating-oil glut is about to make it worse.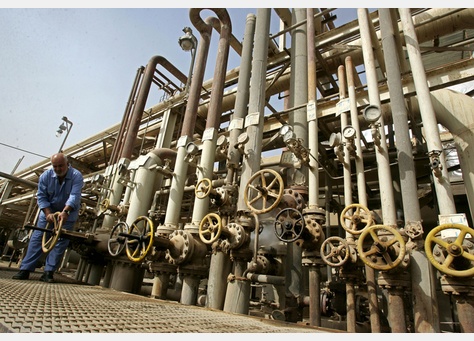 Profit this year will be the lowest since 2011 because of competition from heating-oil imports, according to Wood Mackenzie, a consulting company. Inventories in Amsterdam-Rotterdam-Antwerp, the center of European trading, are the highest for the time of year since 2009, according to data from PJK International BV, a researcher in the Netherlands.
"We're looking at very weak margins," Jonathan Leitch, a senior analyst at Wood Mackenzie in London, said by phone yesterday. "Summer has been disappointing. If you think that hasn't been great, wait until you get to autumn and winter."
European refineries are shutting or converting to storage depots at the fastest pace since the 1980s as demand for oil products dropped for seven years and competition from U.S., Russian and the Middle Eastern supplies intensified. Seventeen plants closed in the past six years, says the International Energy Agency, the Paris-based adviser to 29 nations.
The profit for a refinery in the region able to maximize production of higher-value fuels averaged $1.27 a barrel from May to July compared with $2.83 in the same period a year earlier, based on the price of Brent crude, according to Wood Mackenzie. By December, it will turn into a loss of 80 cents a barrel, the forecast shows.
Refining Margins
Lower summer profits combined with winter losses mean the refining margin in the region will average 40 cents for 2014, less than half the profit last year and just 10 percent of the level in 2012, according to Wood Mackenzie.
"It's very difficult for many European refiners to compete," Ehsan Ul-Haq, a senior market consultant at KBC Energy Economics in Walton-on-Thames, England, said by phone yesterday. "Part of the refining capacity has to be closed."
Eni SpA, Italy's largest oil company, is negotiating with unions to shut more than half of its 774,000 barrels a day of refining capacity, putting more than 3,500 jobs at risk. The sector employs about 100,000 people, according to FuelsEurope, an industry group.
About 1.5 million barrels a day of capacity will need to be closed to eliminate the continent's glut, Patrick de la Chevardiere, chief financial officer of Total SA, Europe's biggest refiner, said last month. That would bring the cumulative reduction in Europe's developed economies to 2.8 million barrels a day -- more than the fuel consumption of Germany -- from a total of 15.9 million at the start of 2008, according to Bloomberg calculations based on IEA data.
Fuel Surplus
Gasoil stockpiles in the Amsterdam-Rotterdam-Antwerp area almost doubled in the four months to yesterday to 2.74 million metric tons, according to PJK data.
Front-month gasoil futures slumped to a 14-month low of $852.50 a metric ton ($2.278 a gallon) on Aug. 18 on the ICE Futures Europe exchange and settled yesterday at $859.25. The contract is used in Europe to derive the price of oil products called middle distillates, including heating oil, diesel and jet fuel. Gasoil's crack, or premium to European benchmark Brent crude, narrowed 13 percent this year to about $14 a barrel.
Margins might improve in September and October as plants halt in Europe and Russia for maintenance, shutting about 1.1 million barrels of capacity on average, KBC estimated. While cold temperatures might spur higher consumption and erode the heating oil surplus, "I don't think that we will see significant improvement in demand," said Ul-Haq.
Markets Shrink
Daily fuel consumption in the region's most-developed economies fell to 13.22 million barrels in May, down 3.2 percent from an average of 13.7 million last year, according to IEA data published Aug. 12. This year's drop in consumption is smaller than "heavy falls" over the past three years, the IEA said.
Refiners' profits tend to peak in the summer as vacationers and truckers travel more. Margins from making gasoline were lower this year as production surged in the U.S., northwest Europe's main export market.
U.S. gasoline production climbed to a record 9.84 million barrels a day in the week ended June 13, according to data from the U.S. Energy Information Administration. The country imported 550,000 barrels a day of gasoline on average this year, compared with 1.1 million in 2006, according to EIA data.
U.S. Advantage
North American refiners have the advantage of abundant supplies of cheap oil produced from shale deposits. West Texas Intermediate, the U.S. crude benchmark, traded at a discount of almost $9 a barrel to Brent yesterday on ICE.
The "spectacular renaissance" in U.S. refining has combined with a surge of exports from Russia, the IEA said in a June report. Companies are refining more crude after President Vladimir Putin pushed them to spend billions of dollars modernizing plants. Output of diesel and fuel oil were the highest in June since at least 2009, Energy Ministry data show.
Middle Eastern refining capacity will rise 2.2 million barrels a day by 2019 as large new projects come online, the IEA said. "Feedstock costs are much lower in the Middle East and most of the new refineries are very sophisticated," making it hard for European plants to remain competitive, Ul-Haq said.
Imports will expand Europe's glut, Steve Sawyer, an analyst at FGE, an energy consultancy, said by phone from London Aug. 20. The region imported 1.2 million barrels a day of gasoil and diesel in April, up 34 percent from a year earlier, according to IEA data.
"When you look at Europe, it's caught in this pincer," Sawyer said. "It's pressure from all sides. The pressure is going to continue."