Princeton, NJ-headquartered NRG Energy Inc. NRG is engaged in the production, sale and delivery of energy and energy products and services to residential, industrial and commercial consumers in major competitive power markets in the U.S.
Currently, NRG Energy is focused on expanding its 4,677 megawatt (MW) renewable portfolio and is implementing measures to minimize emission during operations. The company also completed the integration of residential solar into the NRG Energy platform. With its renewable asset addition program, NRG Energy is well poised to benefit from the extension of the Investment Tax Credit (ITC) for solar and Production Tax Credit (PTC) for wind.
NRG Energy, Inc. Price and EPS Surprise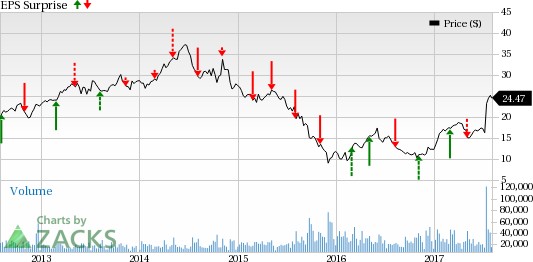 NRG Energy, Inc. Price and EPS Surprise | NRG Energy, Inc. Quote
Estimate Trend & Surprise History
Investors should note that the second quarter 2017 Zacks Consensus Estimate stands at a loss of 5 cents, dropping from an earnings of 32 cents over the last 30 days.
Coming to the earnings surprise, NRG Energy has surpassed the Zacks Consensus Estimate in two of the last four quarters, resulting in a positive average surprise of 193.74 %.
Zacks Rank: Currently, NRG Energy has a Zacks Rank #2 (Buy) but that could change following its second quarter 2017 earnings report which has just released. You can see the complete list of today's Zacks #1 Rank (Strong Buy) stocks here.
We have highlighted some of the key details from the just-released announcement below:
Earnings: NRG Energy reported adjsuted earnings of 36 cents for the second quarter. Our consensus called for a loss of 5 cents.
Revenue: The Company missed the revenue estimates. NRG Energy posted revenues of $2,701 million in the quarter, compared to our consensus estimate of $3,032 million.
Key Stats to Note: During the second quarter 2017, NRG Energy offered its remaining 25% interest in NRG Wind TE Holdco to NRG Yield. It is an 814 net MW portfolio of twelve wind projects
Stock Price: It would be interesting to see how the market reacts to the results during the trading session today.
Check back later for our full write up on this NRG Energy earnings report!
More Stock News: Tech Opportunity Worth $386 Billion in 2017
From driverless cars to artificial intelligence, we've seen an unsurpassed growth of high-tech products in recent months. Yesterday's science-fiction is becoming today's reality. Despite all the innovation, there is a single component no tech company can survive without. Demand for this critical device will reach $387 billion this year alone, and it's likely to grow even faster in the future.
Zacks has released a brand-new Special Report to help you take advantage of this exciting investment opportunity. Most importantly, it reveals 4 stocks with massive profit potential.
Want the latest recommendations from Zacks Investment Research? Today, you can download 7 Best Stocks for the Next 30 Days.
Click to get this free report
NRG Energy, Inc. (NRG): Free Stock Analysis Report
To read this article on Zacks.com click here.
Zacks Investment Research