Question: Which is more interesting - Sitting on a cruise ship wondering if your wife doesn't love you, or wondering about when the Fed is going to raise rates?
The answer - speculating about when the Fed will raise rates.
Why? Because it's always more fun guessing the unknown than dealing with the known.
With this as the background, here's some speculation on how the Fed might read Friday's BLS employment report and what they might do about it.
How Will the Fed Read Friday's Employment Report?
Chart #1: Month-over-Month Employment Growth
The first figure is the popular month-over-month employment growth figure.
Overall, employment growth has been relatively strong over the past few years, with above-200K monthly job growth in 15 of the past 18 months.
What is concerning, although the agenda of the Fed will likely ignore, is the decelerating growth since May 2015.
The decelerating picture is also quite transparent in looking at year-over-year (Y/Y) growth in employment (second graphic). Since February 2015, year-over-year employment growth has dropped from 2.34% to 2.09%.
Still strong enough for the Fed to justify hiking in September, but risky enough to argue that the Fed is hiking when the labor market is peaking.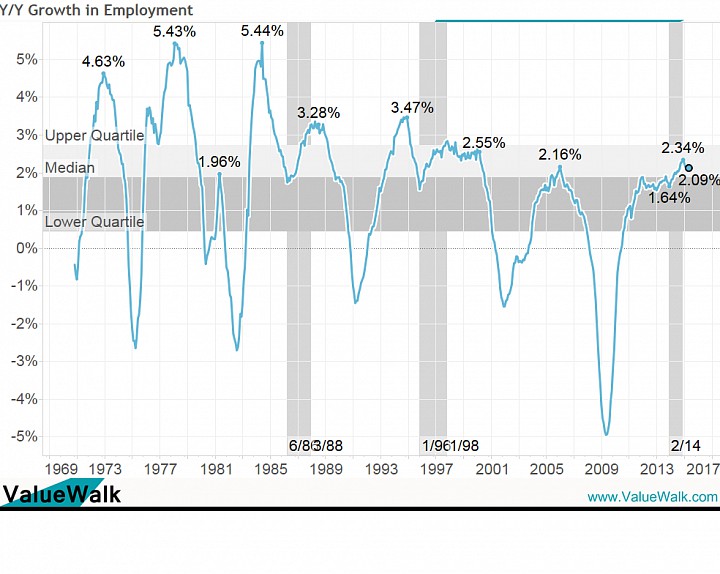 Chart #2: The Unemployment Rate
The second chart is the Unemployment Rate. At 5.1%, the Unemployment Rate is lower than when the Fed started its previous tightening cycle in May 2004. In May 2004, the Unemployment Rate was 5.6%.
With the Labor Force Participation Rate still trickling down, the relatively strong 5.1%...
More