Apple and Exxon have risks that other companies don't

5 february 2015
Shares of the biggest companies rarely outperform the broader market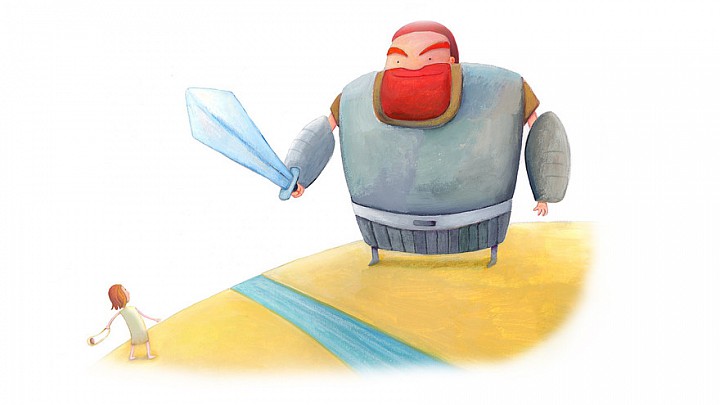 Here's something that should give Apple investors pause: Bigger isn't always better.
In fact, more often than not, it's worse.
This is relevant to Apple AAPL, -0.20% investors because the company has the largest market value of any company in the S&P 500 Index. It's not even close: Apple's market capitalization of $691 billion is almost double that of the second-biggest company, Exxon Mobil XOM, -0.20% whose market cap is $379 billion.
Unfortunately, companies that in past decades were at the top of the market-cap rankings were unable, on average, to keep up with the market itself.
To illustrate that point, I obtained from Standard & Poor's Corp. a list showing, for each year since 1980, the stock that on Jan. 1 had the largest market cap of any in the S&P 500. For each of the stocks, I calculated its dividend-adjusted return over the subsequent 12 months, and compared that to the return of the S&P 500SPX, -0.42% Over the past 34 years, those companies have produced an annualized return that has lagged the index by an average of 7.2 percentage points a year.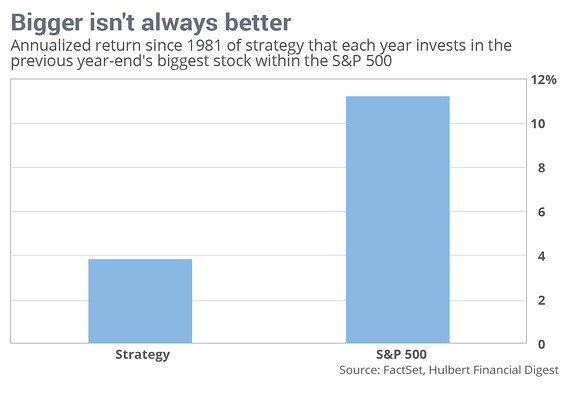 To be sure, those stocks didn't always trail the broader market. So Apple is not guaranteed to perform more poorly.
But the odds don't look good: In two-thirds of the years since 1980, the stock that was biggest at the beginning of the year proceeded to fall behind the S&P 500 over the subsequent 12 months.
Are you surprised by those results? You shouldn't be.
They follow logically from the simple premise that stocks sometimes are overvalued, which is something that everyone but the most fanatical believers in market efficiency will surely concede. And it's more likely that a stock at the top of the market-cap rankings will be overvalued than one with a lower rank.
Another indication of the uphill climb that Apple faces comes from the performance of so-called fundamental indices, which weight stocks according to fundamental economic criteria (such as sales, cash flow and dividends) rather than market value. Historically, at least, fundamental indices have outperformed comparable market-cap-weighted indices.
Consider the performance of the PowerShares FTSE RAFI US 1000 PortfolioPRF, -0.32% which owns the 1,000 largest companies when ranked according to various fundamental criteria. From inception in late 2005 through the end of 2014, the ETF produced a 9% annualized return, a full percentage point per year better than the iShares Russell 1000 ETF IWB, +0.02% which contains the thousand companies with the largest market caps.
That 1 percentage point per year difference is a direct reflection of the extent to which Apple faces stiff headwinds in its quest to beat the broader market.
Not surprisingly, Apple currently is the biggest holding within the iShares Russell 1000 ETF. In the PowerShares ETF, in contrast, it's the eighth-largest.
Mark Hulbert