I recommended BlackRock 3 months ago. Since then the security is down 7%.
The major theme is still intact, and BlackRock is all the more attractive at these prices.
One might want to play the theme by buying a basket of ETF providers.
Three months ago I wrote my first article on Seeking Alpha in which I recommended buying shares of BlackRock (NYSE:BLK). I initiated a position around the same time.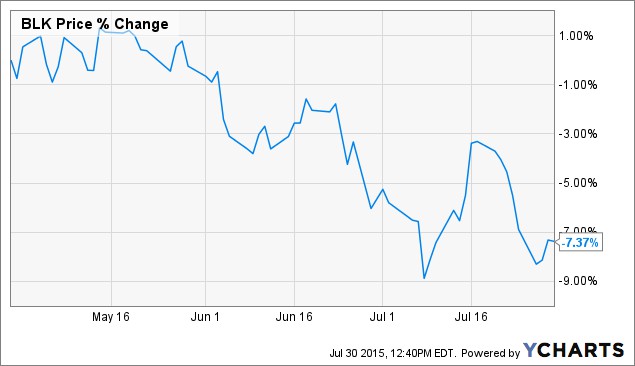 Since then the stock has dropped 7%, once again proving my innate market timing prowess. In my defense I did say "Otherwise, one might have to wait for the earnings to catch up before realizing gains". However the initial thesis was investing in BlackRock as a play on the rise of ETFs in upcoming years.
When investing based on a thesis which will take at least 5 years to play out, we must isolate ourselves from short-term swings.
In this article I will:
Rehash briefly the main points of the investment thesis.
Provide insights concerning the somewhat poor timing of my initial buy. (Hindsight is always 20/20)
Back up the trend with insights from the latest quarter.
Discuss a couple of other securities to consider for exposure to ETF providers.
THE ETF BOOM THESIS
My prior article discusses these points in more detail, but here are the main lines:
Passive investments weight among global AUM is expected to double over the next 5 years, led primarily by ETFs.
Just take a look at Seeking Alpha Ads, how many are NOT geared towards ETFs?
With the main index ETFs being undifferentiated, client attraction and retention will depend on confidence with the provider, as well as the breadth and quality of product offerings.
The larger companies will benefit from economies of scale to offset pricing pressures on their offerings.
BlackRock is ideally positioned to benefit from such trends.
They have great management, with none other than Larry Fink at the top.
They have a huge product offering, and their ETFs often have very large asset bases, providing clients with great liquidity.
The company is profitable and has shown an impressive long-term growth in both revenues and earnings.
They are always increasing their product earnings, with recently a focus on higher fee products, as discussed here by fellow SA contributor.
As a kicker, get paid to wait while the future gets closer. Although a 2.5% yield isn't huge, dividend growth has been spectacular. Here are a few charts to convince the DGI community on Seeking Alpha.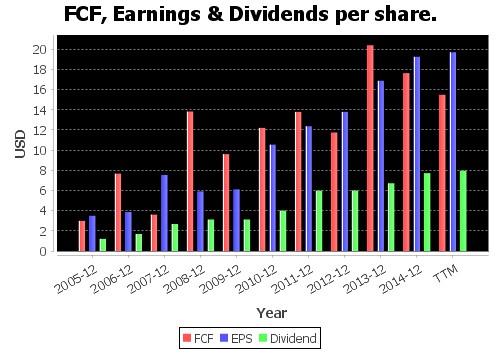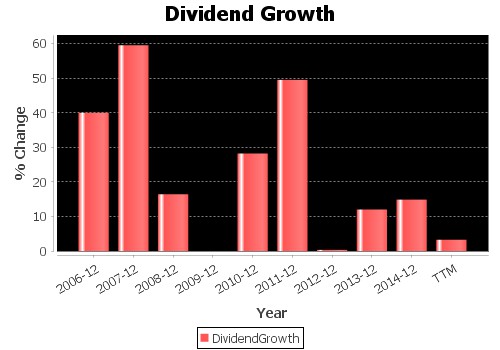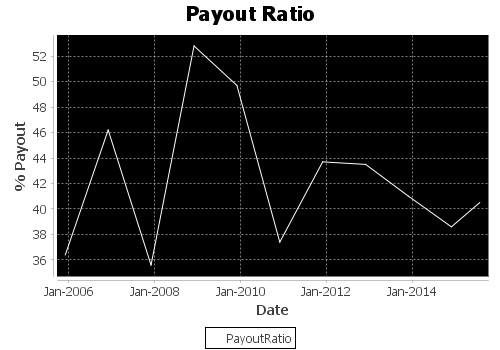 Source: Author's Data.
PAST 3 MONTHS' UNDERPERFORMANCE
Why has BlackRock underperformed the market over the last 3 months?
I don't know how much value such an exercise adds since I believe that if you can't handle the short-term losses, you don't deserve the long-term gains. Regardless, if you waited until now to buy shares, they would be cheaper. Explications are due.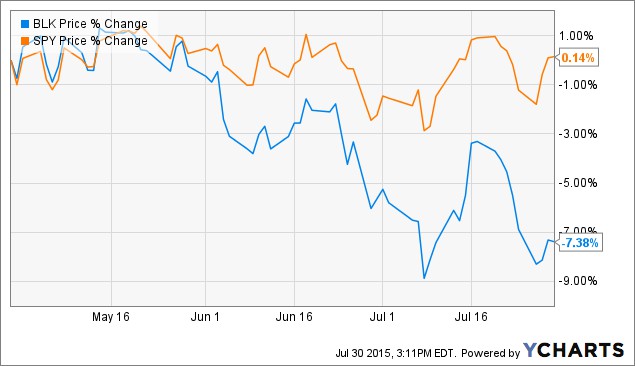 Looking back a few do become apparent:
A lot of BlackRock's business is conducted abroad, hitting the company with a rather large FX impact.
BlackRock is somewhat a mirror of market sentiment, and as volatility hit the markets, institutional investors retired funds from BlackRock's index funds offerings to meet cash requirements.
The company was somewhat getting ahead of itself.
While I had considered the first reason and dismissed it as a short-term factor, the second was in the realm of the unknown and unknowable, to quote Zeckhauser.
The third reason though, does reflect a certain misjudgment. When looking at BlackRock's price relative to its historical PE trend, I used Gurufocus to pull up a 15-year chart, with one PE line at 20x. Which looked like this: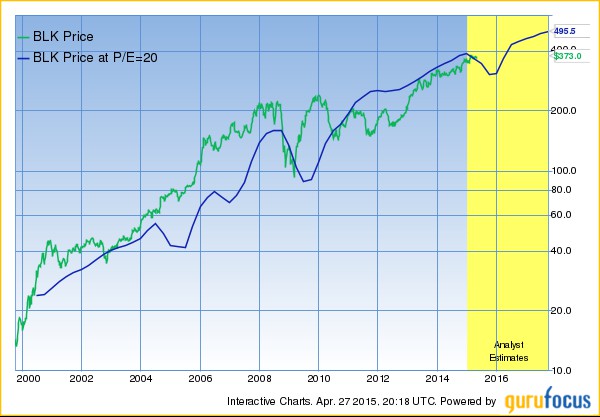 While looking at how the company has been priced over the last 15 years is interesting, I should also have looked at a shorter time frame, and have bracketed the price within a PE range.
A new piece of software which I am testing does this nicely.
(click to enlarge)

As you can see my buy recommendation came when the stock was trending towards its 5-year high, in absolute value but also relatively to its earnings.
This chart shows the stock is coming back towards the center line at 17x ttm earnings, which has been the level around which the company has been trading for the last 3 years. In other words some of the idiosyncratic risk relative to the security's price has been absorbed.
I would buy BlackRock again at these current levels. It is likely the company will continue producing earnings growth during years to come. If the E goes up, there is no reason for the P to not follow suit over time.
THIS LAST QUARTER
This quarter BlackRock was under the spotlight briefly when Icahn publicly irritated Larry Fink during a debate about shareholder activism. Fink's face was priceless.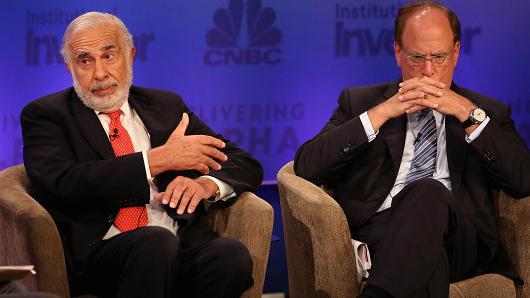 Other than that, BlackRock's last quarter's performance was once again good. The company beat estimates for both earnings and revenues. $24 billion inflows into ETFs weren't enough to offset $31 billion low-fee non-ETF outflows.
It was enough to prove a point: ETFs continue to attract more money. During the last few years, indexes have outperformed stock pickers, giving ETF providers great marketing content.
The key trend within the ETF space, is the race to "Smart" Beta. A plethora of exchange traded products, in particular those from Wisdom Tree (NASDAQ:WETF) and Invesco (NYSE:IVZ), add different rules to constructing an index.
The key idea is that there is a better way to construct an index, than attributing weights by market cap. The problems with this methodology is that all else being equal, the most overvalued companies take up a large part of an index.
Whether the new, "smart", alternatives will deliver better returns to the average investor over time is debatable, but one thing is sure: They help the ETF providers by allowing them to collect higher fees on these funds than they could on a typical S&P 500 index fund (NYSEARCA:IVV), for example.
PLAYING THE THEME
The ETF boom can be played by buying BlackRock. The company fits in nicely to a buy and hold for a decade strategy thanks to its growing dividend. The investor wanting exposure to the boom in ETFs might want to diversify by also buying Invesco, Wisdom Tree, as well as State Street Corp. (NYSEARCA:SST). Look out in upcoming weeks for analysis of some of these competitors.
If you decide to buy the basket of ETF Providers, I will let you decide whether market cap is a good enough proxy for attributing weightings. If you think so, here would be the weightings:
More