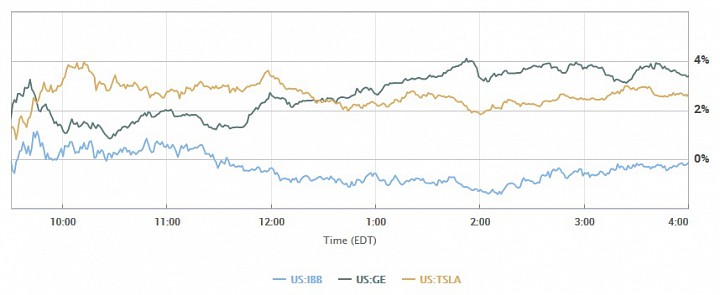 What people say about stocks and the market on social media has become very important within investing. This is why Market Prophit compiles and analyzes social media commentary related to the stock market and general investing, and then elaborates statistics that track sentiment for both experts (Market Prophits) and the public (the Crowd). On Friday, Benzinga spoke with Market Prophit's CEO Igor Gonta, who shared some commentary about trending stocks.
When asked about Biotechs, Gonta responded, "After a period of recent pain, biotechs seem to have found a temporary floor." He assured that both the Crowd and Market Prophits' sentiment on iShares NASDAQ Biotechnology Index (ETF) was "trending negative sentiment before the fall but has recently reversed course, with the Market Prophits strongly bullish." Gonta then went into General Electric Company which "beat earnings and is looking at Digital/Industrial M&A as a potential area of focus and expansion." 
"The Crowd is currently bearish but the Market Prophits are bullish," he added. 
Finally, the expert looked into Tesla Motors Inc and noted that while the stock "recently hit a speed bump after announcing its Model X, sentiment has recently started to diverge dramatically between the Crowd and Market Prophits. While the Crowd remains bearish, the Market Prophits are strongly bullish."
And what do you think about biotechnology companies, GE and Tesla? What shares whould you buy or sell?