Company managements looking to achieve earnings growth often default to cost cutting, stock buyback, accounting gimmicks and other methods. But there is another way. More often than not, managements overlook pricing as a driver of earnings growth. Pricing power can be an effect way of boosting a company's bottom line.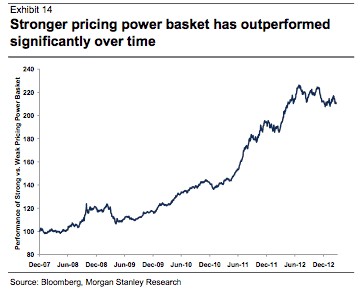 McKinsey & Company, the trusted advisor and counselor to many of the world's most influential businesses and institutions, published a detailed insight earlier this year, which looked at the five simple steps businesses can take to boost sales through the simple act of raising prices -- an act that's usually more effective and less time consuming than cost-cutting measures usually used to boost earnings. McKinsey's data (which covers more than 1,000 pricing-excellence and performance-improvement initiatives in a range of industries) shows that the systematic improvement of pricing capabilities can translate into an increase in return on sales of 2% to 7% depending on the sector. However, only companies that increase their level of analytical rigor and practical know-how will unlock pricing's full potential.
"An international provider of technical gases had a problem. With a large, highly fragmented product portfolio of more than 500 SKUs, customers in a range of industries, and a broad segmentation of customers by size, prices varied widely even for the same product. And while managers believed there was room to increase prices overall, they had no rational basis from which to challenge current pricing practices. The solution? An analytical tool to pinpoint new price drivers, redraw customer segments, and recommend updated prices. After piloting, the tool was rolled out in seven diverse markets. The company supported this new approach with intensive sales-force training and eventually reset up to 100,000 prices for 150 SKUs per country—resulting in an increase in return on sales of three to five percentage points, without significant changes in volume. The whole program took just three months."-- McKinsey & Company, Turning Pricing Power Into Profit.
Pricing power: meaningful data
Achieving sales growth through pricing power requires rigorous analysis of meaningful data; there's an emphasis on the word meaningful.
According to McKinsey's research, pricing managers often lack a clear understanding of how profitability varies among regions and product lines, and they know even less about how it can vary among individual...
More