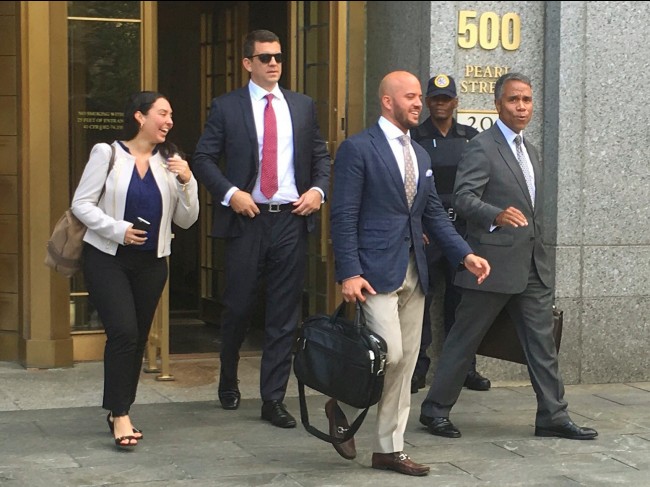 (Jonathan Roper (2nd L), a former Insys Therapeutics Inc district sales manager, and Fernando Serrano (C), a former sales representative at the company walk with Serrano's lawyer, Jude Cardenas (R), out of federal court after they pleaded not guilty to engaged in a scheme to pay doctors kickbacks to prescribe a fentanyl-based drug the company sells, in Manhattan, New York, U.S., August 17, 2016.Reuters)
Key employees at Insys Therapeutics, the maker of powerful opioid Subsys, pled guilty to violating anti-kickback laws Tuesday and Wednesday.
It's part of an ongoing investigation that illustrates how Insys became the poster child for the evils of the opioid crisis and how some companies stopped at nothing to addict America.
The two employees are former sales reps Natalie Levine and Karen Hill. Levine, who is married to Insys' former CEO Michel Babich, pled guilty in Connecticut on Tuesday, and Hill pled guilty in Alabama on Wednesday. Both women face up to five years in prison. The company's stock is down around 5% on the news.
Levine admitted to paying off medical practitioners in order to get them to prescribe Subsys under the...
More