On Sep 20, we issued an updated research report on United Continental Holdings, Inc. UAL. The stock has been downgraded to a Zacks Rank #5 (Strong Sell) from a Zacks Rank #3 (Hold). Going by the Zacks model, companies carrying a Zacks Rank #4 (Sell) or 5 have chances of a weaker performance than the broader market over the upcoming quarters.
Shares of United Continental have significantly underperformed its industry in a year. The stock has rallied 13.7% compared with the industry's 30.4% surge.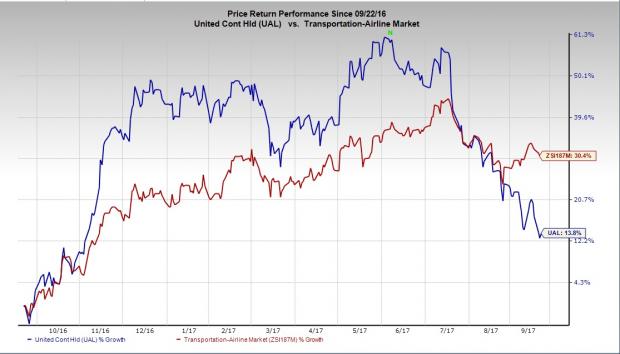 Reasons for the Downgrade
United Continental's results in the third quarter of 2017 are likely to be hurt due to Harvey. The company has been the worst hit as Houston is the carrier's second-largest hub. In fact, more than 7,400 flights were cancelled at the George Bush Intercontinental Airport with operations suspended at the airport for more than four days due to the unprecedented storm.
The pessimism surrounding the stock is evident from the Zacks Consensus Estimate being revised 39.1% downward in the last 30 days.
The company, which is also being afflicted with pricing issues, trimmed its views with respect to pre-tax margin and passenger revenue per available seat mile (PRASM: a key measure of unit revenue) for the current quarter, mainly due to Harvey tropical storm.
The Chicago-based carrier now expects PRASM to decline between 3% and 5% year over year (the earlier guidance provided in July had called for the metric to be from +1% to -1%). In fact, Harvey has impacted the current-quarter PRASM to the tune of approximately 150 basis points. Also, the carrier anticipates pre-tax margin between 8% and 10% (previous outlook had called for the metric in 12.5-14.5% range). Higher fuel prices are further anticipated to hamper the bottom line in the third quarter.
The company has inked multiple labor deals in the recent past resulting in limiting earnings growth. Escalating fuel costs also remain a cause for concern. Plus, United Continental is a highly leveraged company.
Fuel price per gallon is now projected in the band of $1.72-$1.77 (earlier view: $1.56-$1.61). Due to high expenses, the consolidated unit cost or cost per available seat mile (CASM) — excluding fuel, third-party business expenses and profit sharing — is now estimated to increase between 2.5% and 3.5% (earlier view had called for a rise in the 2-3% band) in the third quarter.
In the wake of the above negativities, we believe investors should currently discard United Continental stock from their portfolio.
Stocks to Consider
Some better-ranked stocks in the airline space are Air France-KLM SA AFLYY, Deutsche Lufthansa AG DLAKY and SkyWest, Inc. SKYW, each sporting a Zacks Rank #1 (Strong Buy). You can see the complete list of today's Zacks #1 Rank stocks here.
Shares of Air France-KLM and Deutsche Lufthansa have soared more than 100% in a year, while SkyWest shares have surged 60.6% over the same time period.
Will You Make a Fortune on the Shift to Electric Cars?
Here's another stock idea to consider. Much like petroleum 150 years ago, lithium power may soon shake the world, creating millionaires and reshaping geo-politics. Soon electric vehicles (EVs) may be cheaper than gas guzzlers. Some are already reaching 265 miles on a single charge.

With battery prices plummeting and charging stations set to multiply, one company stands out as the #1 stock to buy according to Zacks research.

It's not the one you think.

See This Ticker Free >>
Want the latest recommendations from Zacks Investment Research? Today, you can download 7 Best Stocks for the Next 30 Days.
Click to get this free report
United Continental Holdings, Inc. (UAL): Free Stock Analysis Report
SkyWest, Inc. (SKYW): Free Stock Analysis Report
Deutsche Lufthansa AG (DLAKY): Free Stock Analysis Report
Air France-KLM SA (AFLYY): Free Stock Analysis Report
To read this article on Zacks.com click here.
Zacks Investment Research