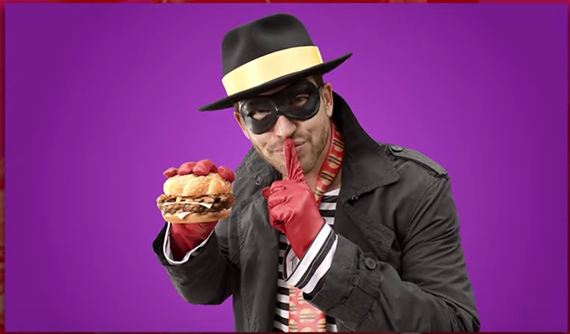 When McDonald's iconic character, the Hamburglar, came back, many critics were skeptical, and for good reason. He didn't do his job.
In one of the burger giant's latest marketing pushes, the company revamped the iconic Hamburglar character, in the hopes of boosting its sales of sirloin burgers.
However, the efforts of the Hamburglar were short lived: McDonald's is pulling the sirloin burgers from menus shortly due to low sales. Most of the buzz surrounding the most recent version of the iconic cartoon swirled around Twitter and Facebook about the apparent attractiveness of the actor portraying him, and not the menu item itself.
Due to lagging sales for multiple consecutive financial quarters, McDonald's has been pushing its premium menu items in an effort to boost sales. The company has also added premium chicken sandwiches to its menu, pushing the idea that it offers premium foods for a cheap price.
"Our sirloin burger didn't meet our expectations," said Lisa McComb, a spokeswoman for McDonald's said, according to Bloomberg. "However, this sandwich represents action steps the U.S. has taken to enhance food-quality perceptions. Seventy-six percent of customers who tried the sirloin burger said their opinion of McDonald's beef improved."
McDonald's is going to have to make a bigger move than simply bringing back a cartoon character is order to improve their sales numbers. It seems as though their efforts haven't done much than perhaps increase the traffic on the fast food giant's social media pages.
Because of the company's declining sales, McDonald's has tried a few different tactics. In some locations, customers can order from a touch screen kiosk and customize their orders; some locations offer table service.
The jury is still out in terms of which one will work.
For more business and financial news, click here.
*This is editorial content and contains the opinion of the author.