Euroseas Ltd (NASDAQ:ESEA) announced the results of its rights offering which closed on September 17, 2015. From the Press Release:
Shareholders subscribed for 2,343,335 shares of common stock at US $4.50 per share.
Gross proceeds were $10.55M.
Company will use proceeds to take delivery of drybulk vessels under construction and general corporate purposes.
The Chairman and CEO, Aristides Pittas commented that despite the "challenging capital markets" he was pleased with the results of the offering.
The current newbuild fleet: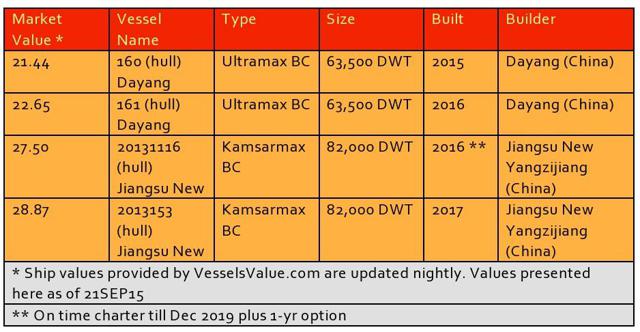 Source: ESEA and VesselsValue.com
Euroseas Ltd had planned to raise as much as $20M with the offering in part to strengthen its balance sheet, but has clearly fallen short of this goal. In August, Mr. Pittas told Maritime CEO he believes this is a good time to be putting money to work in drybulk shipping, "because we are at a very low point." Falling some ten million dollars shy of the anticipated windfall might change his calculus.
Like many ship owners, Mr. Pittas expects a stronger market in 2016, just as the company will accept delivery of newbuilds. It should be noted, however, drybulk carriers have been optimistic about 'the coming year' since 2013. The order book is finally in their favor, but dwindling demand for coal is a secular problem.
The company's current drybulk fleet consists of four Panamax vessels and one Handymax, with an average age of ~16.6 years. (According to Clarksons, the economic life of a drybulk vessel is 25-30 years). Most of Euroseas live fleet is employed under time charters.
This rights offering comes just two months after the company completed a 1-10 reverse split on July 22, 2015. The purpose of the reverse split was to meet the Nasdaq $1.00 minimum requirement for listing. After the split, Euroseas had just 5.8M outstanding shares.
This is a small company, treading water in a weak bulker market and looking weaker given China's recent deceleration and tepid outlook for coal. The shares trade substantially below tangible book value of $9.03 and in fact, according to the latest data from VesselsValue.com, the demolition value of the fleet of $43.34M is higher than the current market cap.
Investors looking to play in drybulk shipping can find safer companies to gamble on, such as Star Bulk Carriers (NASDAQ:SBLK), Diana Shipping (NYSE:DSX) and Navios Maritime (NYSE:NM), to name a few. But with such a small number of Euroseas shares outstanding, any prolonged upturn in this sector could create a nice pop for those willing to take a chance on the stock at these levels. It's not for me; I prefer the long view.
Mr. Pittas is right to say, "the market will correct itself eventually," but right now this company is worth more dead than alive. That does raise the issue of whether the fleet is for sale. I stated in a previous article the only reason Euroseas keeps its container vessels is for scrap value. That means 2/3 of its fleet is already deemed 'on the block'.
With pools and consolidation becoming more common in this sector, I don't think it's an outlandish notion that this entire fleet be absorbed through a merger or outright sale, but Mr. Pittas has not alluded to that possibility. He's standing by his assertion that business will improve and his company is building its position to profit from the next cycle, whenever that may come.
As of this writing, there were only 387 shares traded intraday. It appears investors do not share the CEO's optimism, but I've been wrong before.
Editor's Note: This article covers one or more stocks trading at less than $1 per share and/or with less than a $100 million market cap. Please be aware of the risks associated with these stocks.
More