The EUR/USD ended lat week, and started this week with a consolidation/correction attempt off the 1.3367 fresh low on the year. The rally came up to as far as the 1.3445 high from last week, but retreated. The 50-Day simple moving average was also providing a ceiling for price action for a couple of sessions. The 1H RSI held below 60 as well, which reflects the maintenance of bearish momentum even in this intra-session near-term time-frame. The 1H chart shows a market that is poised to challenge the 1.3367 low with downside below that toward the 1.3295-1.33 lows from Nov. 2013.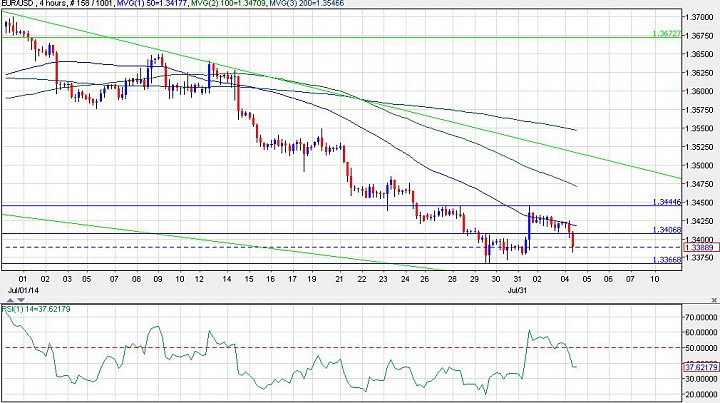 (EUR/USD 4H Chart)
The daily chart shows the market falling in a wedge so far. We see that the RSI is sticking around the oversold area, which reflects the momentum of a bearish market.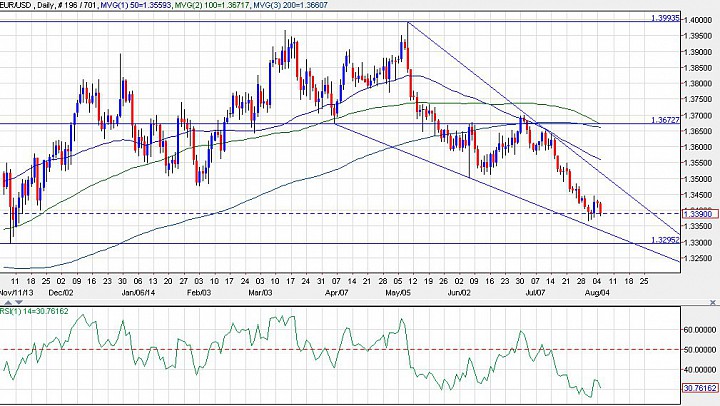 (EUR/USD Daily Chart)
ECB: Thursday (8/7)
We will likely not get too strong a bearish attempt ahead of the ECB meeting. While traders are pricing in more likelihood of QE, the bank is likely to sit tight for now, and observe how the previous stimulus measures fare. It is awaiting implementation of its LTRO. 
A non-dovish ECB can pave the way for some consolidation of EUR - some recovery. In the short-term, we should limit any bullish correction outlook to the 1.35-1.3510 area, which was the June consolidation low. In the medium-term the 1.37 level could be a target as well within the bearish mode, but it should not break above 1.37 or the market can be shifting back to a bullish mode.