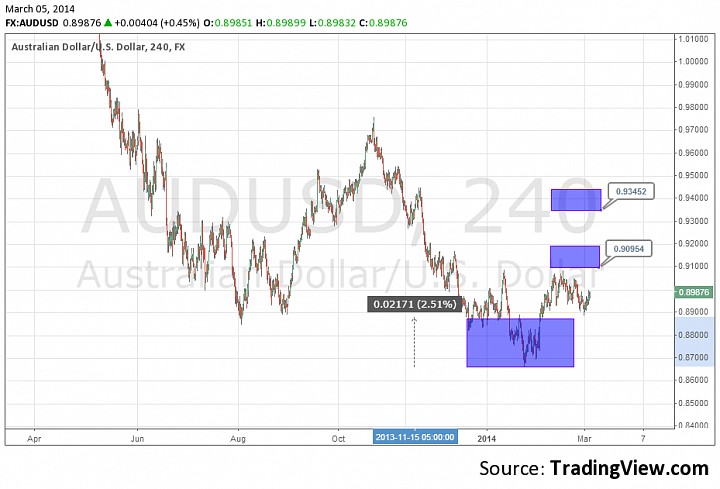 ---
AUDUSD is showing signs of change. Broader trend is bearish which has been demonstrated by the most recent swing low of .8659. An important observation here is that the .8650 - 8870 area represents a significant support zone based price analysis related to the previous .8856 swing low made in August. 
---
This support zone presents an area to look for bullish price structures for day trade opportunities. There is not enough information to justify classifying this as a trend change at this time.  It is more reasonable to consider this more of reduction of bearish momentum and possible beginning of a range bound situation.
---
There is a higher low forming just above .8870 level but it is minor in terms of the magnitude of the bearish swing so at this point price action leans more toward expecting more for short trades. This can change. Especially if the first level of resistance is comprised at .9095 area.  If that price break to the upside is sustained, that will further confirm the conclusion of the recent bearish momentum .  
---
http://www.youtube.com/watch?v=sK5Abqz1_xQ&list=U...
---
If this resistance is broken, it is best to play it conservative on both sides by expecting less from both long and short trades in my opinion .  If you are considering shorts, look for day trade validations at the .9095 area, and above that at the .9345 area.  I would not have high expectations of profit targets in this scenario. The low .9000s and mid .9200s can serve as reasonable targets respectively.
---
As far as longs, I would wait for a more significant retracement into the high .8700s and price validation for day trades long. 
---
I would consider recent price structures at the time of the trade opportunity in order to gauge risk and establish stop levels. 
---
Want to learn more how to trade forex and futures like we do at SMB Capital? Visit my page about my training program
Price Action Techniques For Consistency
.