Price has been choppy since 2011, but F has at least stayed above the 10.00 most of the time since then. The question is whether price will recover from the lows around 10.00 back to the highs we seen in recent years in the 17.50-19 area. Let's first examine the monthly chart.

Ford (F) Monthly Chart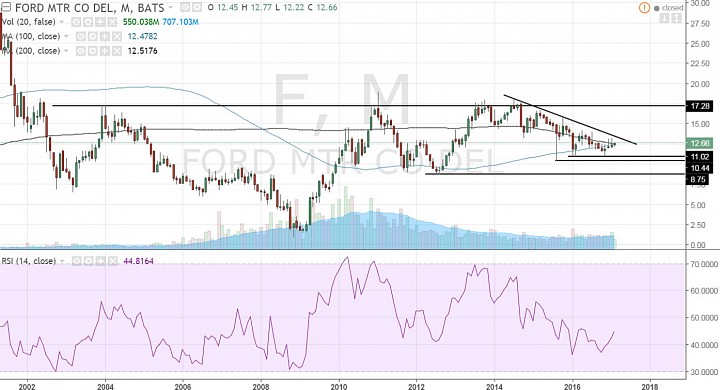 (click to enlarge)

Focusing on Price Action in Recent Years:
- When we look at the monthly chart, we can see that price has already recovered to the pre-financial crisis levels.
- The thing is, I am not going to give much weight to price action before the crisis and subsequent bailout. 
- I think we should focus on price after the financial crisis, which came up to around 19 in 2011.

There is Downside Risk:
- Looking at the monthly chart, we can see that the mode has been essentially sideways since 2011, between a low around 8.75 and a high around 18.90. 
- Given this range, we can say that there is still downside risk to 8.75 within the sideways mode. 

Price is Anchoring Higher Above 12.00:
- I mentioned that price for the most part anchored above 10.00 since 2011. 
- When we look at price action in 2017, we can see that price is starting to be anchored above 12.00. 
- Also, the RSI has tagged above 70 and h as since stayed above 40. This represents maintenance of this new bullish momentum.
- Furthermore, price is starting to stay North of the 100- and 200-day simple moving averages (SMAs). This reflects a shift from sideways market to one with some bullish bias. 
- With that being said, we still need a break above 13.50 to clearly show a break above a falling resistance. 
- We might not have strong signals yet, but if price is back to 12.50 for example, we can consider a long position.

Reward to Risk Assessment:
- If we go long at 12.50 with a stop at 11.80, we risk 5.6%
- The conservative target should be 13.25, which would NOT break the falling resistance.
- An aggressive target would be 14.00, which would be around the 2016 highs.
- I think there is upside after that too, but let's be conservative for our reward to risk assessment.
- The average of those targets would give you 13.625, which would be a potential gain of 9%.
- This is not a great trade unless we believe strongly in the potential of pushing to 14.00 and even higher. We can have 3 positions, one for the conservative target, one for 14.00, and one for a breakout target 14.50, which is around a support/resistance pivot going back to 2011.