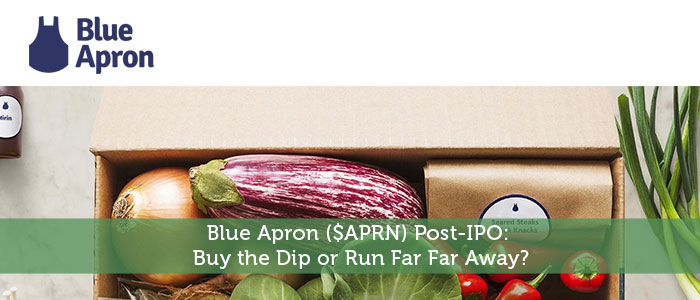 Blue Apron is a company that sends boxes of uncooked food to your home. When you open the parcel, you find neatly packaged items with easy recipes for turning them into nutritious/delicious meals. Individual and family plans are available, with options for vegans, pescatarians, and other diet tribes. The company made its IPO last month, with shares going for $10 a pop.
Since then the price has sunk down to below $8, after a brief rise to $11. The question is, should investors take the opportunity to buy the dip or give APRN a wide berth?
To form an educated opinion, we've got to get a better understanding of Blue Apron's competition, as well as the grocery industry they're trying to disrupt.
$APRN lower lows lower highs…vood night son
What is Blue Apron's Competition?
You said it, Smooty.
My main qualm with $APRN is competition. There's just so much of it!
Even though Blue Apron has become the household name of delivery meal prep groceries, that doesn't mean the space isn't swarming with nearly identical competitors. Here are a few:
Oh yeah, and Amazon Fresh, Walmart, and Tyson.
I'm gonna guess that this is a niche...
More