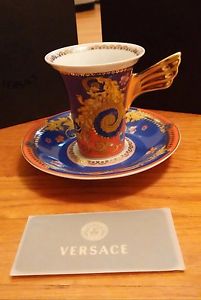 We have a variety of VERSACE Dining items for sale. Check them out! Cups, saucers, plates and more.
Shown is the VERSACE PRIMAVERA pattern Coffee Cup and matching Saucer. Colorful and elegant you will LOVE drinking coffee from any of the VERSACE patterned cups. BELIEVE US!
Shipping We always make an effort to assist you in saving as much money as possible. This may mean when possible, that we ship your item Standard Post in a plain brown shipping box. While shipping rates are much lower, shipping times are 2 to 9...
More