As QE3 came to an end, World Stocks plunged back to economic reality before The Fed's Jim Bullard promised 'moar QE' if things get really bad. Well things have got really bad... JPMorgan's Global Manufacturing PMI just dropped to its lowest since July 2013..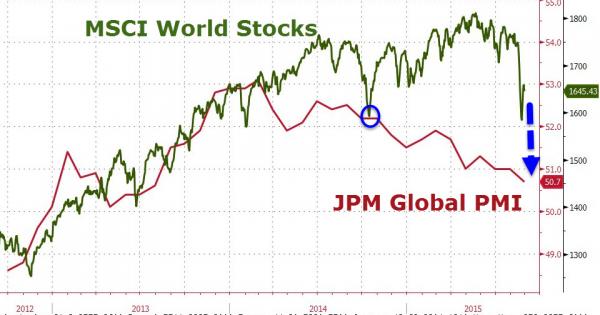 And the 'wedge' between economic reality and market perception is closing rapidly.
Because - as we noted previously, "It's not the economy, its global stocks, stupid!"
We leave it to Raoul Pal to sum up...
World PMI is looking very much like replay of 2007/8... tipping point is nearly reached. Currently at 50.7. pic.twitter.com/19Q98RDMlc

— Raoul Pal (@RaoulGMI)

https://twitter.com/RaoulGMI/status/638742525075783680
Charts: Bloomberg