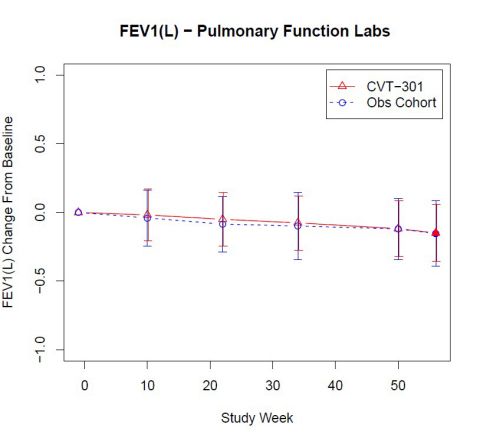 ARDSLEY, N.Y.--(BUSINESS WIRE)--
Acorda Therapeutics, Inc. (Nasdaq: ACOR) today announced results from two ongoing, long-term safety studies of CVT-301 in people with Parkinson's that showed no differences in pulmonary function between the group receiving CVT-301 and an observational control group. These results are consistent with previously reported data from Phase 2b and Phase 3 clinical trials.
This Smart News Release features multimedia. View the full release here: http://www.businesswire.com/news/home/20170329005421/en/
CVT-301 is an investigational, inhalable formulation of levodopa (L-dopa). It is being studied as a treatment for symptoms of OFF periods in people with Parkinson's taking an oral carbidopa / levodopa regimen. OFF periods are characterized by the re-emergence of Parkinson's symptoms.
"We are delighted with these results, and plan to move forward with our NDA filing for CVT-301. These two studies, which include approximately 700 participants, represent the largest safety database evaluating long-term pulmonary function in people with Parkinson's," said Burkhard Blank, M.D., Chief Medical Officer of Acorda. "We thank the study volunteers and clinical investigators, whose willingness to participate in these trials has been essential to the progress of this program."
The Company is conducting two separate long-term safety studies:
CVT-301-005: a 12-month, randomized, open-label study in which 271 participants with Parkinson's who did not have a history of asthma or other chronic lung disease receive CVT-301 84 mg up to five times daily, along with usual Parkinson's standard of care. Safety findings for participants treated with CVT-301 are compared to an observational control group of 127 participants managed with usual Parkinson's standard of care. At the time of this analysis, all ongoing participants completed their 36 week visit and 199 participants completed their 52 week visit.
CVT-301-004E: participants receive one of two doses of CVT-301 (84 mg – 149 participants; 60 mg – 146 participants). There is no control arm in the study. At the time of this analysis, 70 participants completed their 36 week visit and 49 participants completed their 52 week visit.
Data from both studies will be presented at a future medical meeting.
The Company plans to file a New Drug Application (NDA) in the United States by the end of the second quarter of 2017 and, pending additional data analyses, plans to file a Marketing Authorization Application (MAA) in Europe by the end of 2017.
CVT-301-005 Detailed Safety Findings
The primary objective of this study is to assess pulmonary function. Measures include Forced Expiratory Volume in 1 second (FEV1) and diffusing capacity of the lung for carbon monoxide (DLCO). Further study details are available at https://clinicaltrials.gov/ct2/show/NCT02352363.
The mean changes in FEV1 (see Figure 1) and DLCO (see Figure 2) from baseline to Week 52 in the CVT-301 84 mg group were not statistically different from the observational control group.
Participants reporting serious adverse events (SAEs) were as follows: 13 (10.2%) in the observational control arm and 40 (14.9%) in the CVT-301 84 mg arm. Urinary tract infection occurred in four participants (1.4%) receiving CVT-301 84 mg. No other SAEs in the CVT-301 treatment group were reported at greater than 1%. There was one death in the study, a...
More