Windstream Holdings Inc. WIN is slated to report third-quarter 2017 results on Nov 9, before the opening bell.
The leading local exchange carrier has a negative earnings surprise history. The company's earnings lagged the Zacks Consensus Estimate in three of the trailing four quarters, with an average miss of 60.3%.
Let's see how things are shaping up for this announcement.
Factors Likely to Influence This Quarter
We appreciate Windstream's focus on improving sales, cutting costs and planning pricing initiatives, which are expected to boost profitability and check churn. The company's cloud-to-cloud disaster recovery management solutions replicate mission-critical virtual servers and data.
Launch of a multi-featured SD-WAN solution looks impressive. The product is expected to aid in optimizing application performance automatically with lesser costs. Windstream's cloud-to-cloud disaster recovery management solutions, expansion of Kinetic TV services in North Carolina and merger with EarthLink Holdings should rake in considerable profits. Expansion of its metro fibre network business in newer areas and its aim to extend the deployment of G.fast technologies over traditional copper telephone wires bode well.
Acquisition of Broadview Networks Holdings should improve Windstream's balance sheet by reducing leverage through the realization of synergies. This will prove accretive to free cash flow as well.
The company will be promoting its SDN-enabled multi-vendor services in partnership with Ciena Corporation CIEN, Infinera Corporation INFN and Coriant in the MEF17 Proof of Concept showcase from November 13-16, in Orlando. MEF17 ifocuses on advancing Third-Network connectivity and cloud services for the digital economy & the hyper-connected world.
On the flip side, Windstream has been losing access lines, thanks to pricing pressure and fierce competition. The company is under pressure due to losses in the wholesale business. Being a local exchange carrier, Windstream is exposed to stringent regulatory measures by the Federal Communications Commission as well as state regulations.
Further, continuous investments in technology and network upgrades may dent the company's earnings. Outdated network equipment has been the primary reason for discontinuation of the DSL (digital subscriber line) service in CLEC (competitive local exchange carrier) territories across 25 states.
Despite management's efforts to modify financial profile, we are concerned about Windstream's highly leveraged balance sheet.
In the past three months, shares of Windstream have lost 5.9% compared with the industry's decline of 12.0%.


Earnings Whispers
Our proven model does not conclusively show that Windstream is likely to beat the Zacks Consensus Estimate this quarter. This is because a stock needs to have both a positive Earnings ESP and a Zacks Rank #1 (Strong Buy), 2 (Buy) or 3 (Hold) for this to happen. Unfortunately, that is not the case here as elaborated below.
Zacks ESP: Windstream has an Earnings ESP of -9.62%. This is because the Most Accurate estimate is a loss of 48 cents and the Zacks Consensus Estimate is pegged at a loss of 43 cents. You can uncover the best stocks to buy or sell before they're reported with the https://www.zacks.com/premium/esp-buy?adid=zp_article_espfil...">Earnings ESP Filter.
Zacks Rank: Windstream has a Zacks Rank #3 which increases the predictive power of ESP. However, the company's negative ESP makes surprise prediction difficult.
Windstream Holdings, Inc. Price and EPS Surprise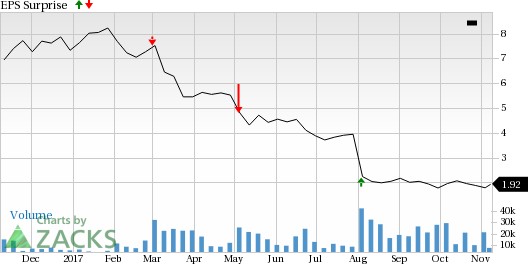 Windstream Holdings, Inc. Price and EPS Surprise | Windstream Holdings, Inc. Quote
We caution against stocks with a Zacks Rank #4 or 5 (Sell-rated) going into the earnings announcement, especially when the company is seeing negative estimate revisions.
Key Pick
Here is a company in the broader Computer and Technology sector— which houses Windstream— that has the right combination of elements to post an earnings beat this quarter.
Facebook Inc FB is expected to release fourth-quarter 2017 results on Feb 7, 2018. The company has an Earnings ESP of +1.12% and a Zacks Rank #3. You can see https://www.zacks.com/stocks/buy-list/?ADID=zp_1link&ICI... _1link">the complete list of today's Zacks #1 Rank stocks here.
The company's earnings surpassed the Zacks Consensus Estimate in the previous four quarters, resulting in an average beat of 14.02%.
Wall Street's Next Amazon
Zacks EVP Kevin Matras believes this familiar stock has only just begun its climb to become one of the greatest investments of all time. It's a once-in-a-generation opportunity to invest in pure genius.
Want the latest recommendations from Zacks Investment Research? Today, you can download 7 Best Stocks for the Next 30 Days.
Click to get this free report
Infinera Corporation (INFN): Free Stock Analysis Report
Facebook, Inc. (FB): Free Stock Analysis Report
Ciena Corporation (CIEN): Free Stock Analysis Report
Windstream Holdings, Inc. (WIN): Free Stock Analysis Report
To read this article on Zacks.com click here.