Last month, I wrote here that oil would "go from worst to first" as it rebounds from a horrific 2014 decline. It was a strategic view with only loose timing aspects simply because there was not enough technical evidence to say the timing was right. Well, the timing is right now.
This is not a "back up the truck" forecast, but rather a call to start getting back into a least-loved and most-undervalued sector of the stock market. There is no law that says investments have to be all or none, and if I am correct, then adding to winning positions, as trading academies might preach, is an always available option.
My favorites are the major international oil companies because as crude oil was making lower lows over the past few months, stocks such as Exxon Mobil XOM, -0.08% made flat or higher lows. Chart watchers call this is a bullish divergence and it is usually a good sign when energy stocks lead the commodity.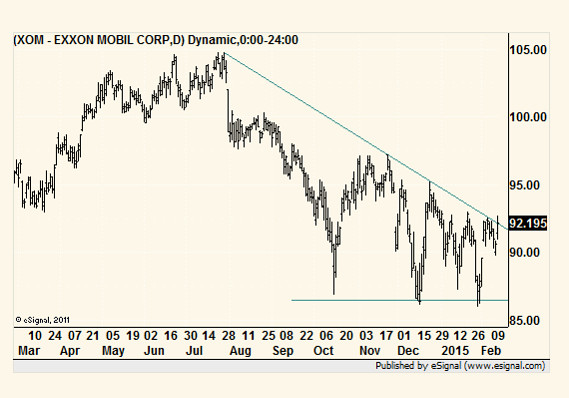 Let's take a look at Exxon. It scored interim lows in October, December and January at roughly 86.25 (see Chart 1). But that is not as important as this zone eliciting buying activity even as crude oil sank from $80 to $45 over that same period. Investors apparently saw beyond the short-term oil decline and thought this company would be able to weather the storm. I'd call that demand for the stock just waiting to be unleashed with a technical breakout.
Where would that breakout be? A move above the trendline that guided the stock lower since last July would do the trick. Trading as I write these words is now bumping up against that line at 92.21.
While I do not expect oil to return to its old highs any time soon, Exxon is only down 12% from its own high. Given the size of the October-February consolidation pattern, simply trading in the same sized range would bring it almost all the way there. In other words, if and when the stock breaks out, there is the potential for a nice run higher over the next few months.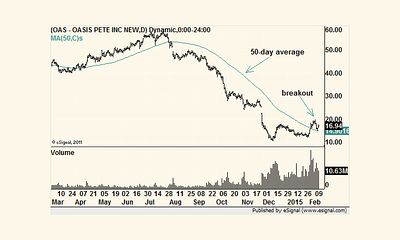 For investors with a little higher risk tolerance, we can dig deeper into the sector for a sub-group that has been truly forsaken – the so-called shale-oil group. These oil and gas exploration and production stocks were heroes as oil moved higher, but as prices fell, their share prices collapsed (see Chart 2).
For example, Oasis Petroleum OAS, +0.41% traded as high as 58 last July, but by December it was down to 11.00. It rebounded into the end of the year by softened in January. However, as with Exxon above, its January low was higher than that seen in December. Another bullish price divergence with crude oil and a hint that the environment was changing.
Volume characteristics agreed. During its final selloff in December, volume swelled to many multiples of its average, and I read that as a final cleansing of bullishness. All supply was used up. This month, as it rallied sharply, volume swelled again to suggest there was real demand back in play.
It is now back above its 50-day moving average and money is flowing back into the stock according to the on-balance volume study. More shares are changing hands on up days than on down days, which confirms the resurgence of demand.
To be sure, shale-oil stocks are still risky, as they are still very small in terms of market capitalization. Plus, they need higher oil prices to justify the expense of extracting oil from shale. But if the charts are a guide, and I believe they are, then smart money is looking past current oil prices believing shale-oil companies will be profitable in the future.
There are many varieties of energy stocks and not all are ready to accumulate. As long as short-term trends are up and selected technicals such as volume and moving averages are supportive, there should be good opportunities in the sector over the next few months.
marketwatch