The New York Times Company NYT posted the fourth straight quarter of positive earnings surprise, when it reported second-quarter 2017 results. The company delivered adjusted earnings from continuing operations of 18 cents a share that came ahead of the Zacks Consensus Estimate of 13 cents and increased 63.6% from the year-ago quarter. The newspaper publisher's total revenue of $407.1 million rose 9.2% year over year and outpaced the Zacks Consensus Estimate of $394.4 million, marking the third straight quarterly beat.
Better-than-expected results and spectacular increase in digital subscribers have helped propelled the stock. In fact year to date, the stock has surged 38% and has comfortably outperformed the industry that gained 8.3%.
The quarter witnessed an increase in digital advertising and subscription revenues but a decline in print advertising revenue.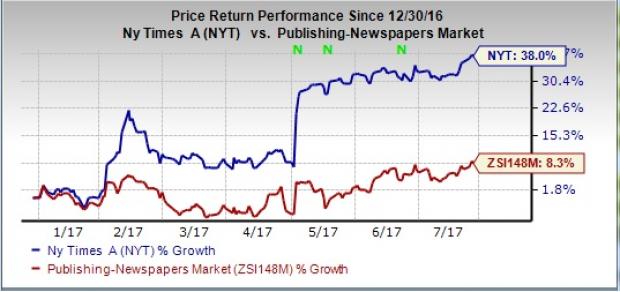 Let's Delve Deeper
Subscription revenue grew 13.9% to $250 million, primarily backed by the company's digital subscription initiatives and a rise in the home delivery price of The New York Times. Revenue from digital-only subscriptions jumped 46.4% to $82.5 million. Management now projects total subscription revenue in the third quarter to increase at a rate equivalent to that registered in the second quarter.
Total advertising revenue came in at $132.2 million in the reported quarter, up 0.8% year over year. This was for the first time that total advertising revenue increased, since the third quarter of 2014, on account sturdy digital advertising. However, print advertising revenue fell 10.5% to $77.1 million in the quarter under review, following a decline of 17.9% in the preceding quarter.
Digital advertising revenue surged 22.5% to $55.2 million, after witnessing an increase of 18.9% in the preceding quarter. Higher digital advertising revenue came on the back of rise in revenues from mobile platform, programmatic buying channels and branded content, partly offset by a fall in traditional website display advertising.
The company on one hand saw a 3% drop in the display advertising category, while on the other hand it witnessed a 30.9% jump in the classified and other advertising category. The diversified media conglomerate hinted that total advertising revenue in the third quarter is likely to decline in the mid to high single digits.
Adjusted operating costs came in at $340 million during the quarter, up 6.9% year over year. Management now anticipates adjusted operating costs to increase in the mid-single digits in the third quarter. Total adjusted operating profit grew 23.2% to $67.1 million.
New York Times Company (The) Price, Consensus and EPS Surprise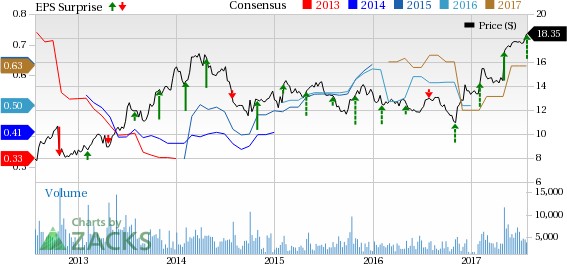 New York Times Company (The) Price, Consensus and EPS Surprise | New York Times Company (The) Quote
Other Financial Aspects
The New York Times Company ended the quarter with cash and marketable securities of about $807.4 million, and total debt and capital lease obligations of approximately $248.6 million. The company incurred capital expenditures of about $22 million during the quarter. Management envisions capital expenditures in the band of $85– $90 million for 2017.
Conclusion
Advertising, which remains a significant source of revenue, is largely dependent on the global financial health. Softness in advertising demand has been weighing on The New York Times Company's performance. Consequently, the company is trying in every way to shield itself from the impact of an unstable market and contemplating on new avenues of revenue generation. The company had offloaded assets that bear no direct relation to its core operations in order to re-focus on core newspapers and pay more attention to online activities.
The New York Times Company has been adding diverse revenue streams, such as a pay-and-read model, to stay less vulnerable to economic conditions. The company is also adapting to the changing face of the multiplatform media universe, and has already included mobile and reader application products in its portfolio. Other publishing companies such as New Media Investment Group Inc. NEWM, Gannett Co., Inc. GCI and The McClatchy Company MNI are also trying to adapt to different revenue generating ways.
Despite hiccups in the economy, what still promises revenue generation is The New York Times Company's pricing system for NYTimes.com, which was launched on Mar 28, 2011. The company notified that the number of paid digital subscribers reached 2,333,000 at the end of the reported quarter – rising 114,000 sequentially (93,000 came from the digital news products and 21,000 from the Crossword product) and 63.4% year over year.
The New York Times Company remains committed to streamlining cost structure, strengthening balance sheet and rebalancing portfolio.
The New York Times Company currently carries a Zacks Rank #3 (Hold). You can see the complete list of today's Zacks #1 Rank (Strong Buy) stocks here.
More Stock News: Tech Opportunity Worth $386 Billion in 2017
From driverless cars to artificial intelligence, we've seen an unsurpassed growth of high-tech products in recent months. Yesterday's science-fiction is becoming today's reality. Despite all the innovation, there is a single component no tech company can survive without. Demand for this critical device will reach $387 billion this year alone, and it's likely to grow even faster in the future.
Zacks has released a brand-new Special Report to help you take advantage of this exciting investment opportunity. Most importantly, it reveals 4 stocks with massive profit potential. See these stocks now>>
Want the latest recommendations from Zacks Investment Research? Today, you can download 7 Best Stocks for the Next 30 Days.
Click to get this free report
New York Times Company (The) (NYT): Free Stock Analysis Report
Gannett Co., Inc. (GCI): Free Stock Analysis Report
New Media Investment Group Inc. (NEWM): Free Stock Analysis Report
McClatchy Company (The) (MNI): Free Stock Analysis Report
To read this article on Zacks.com click here.