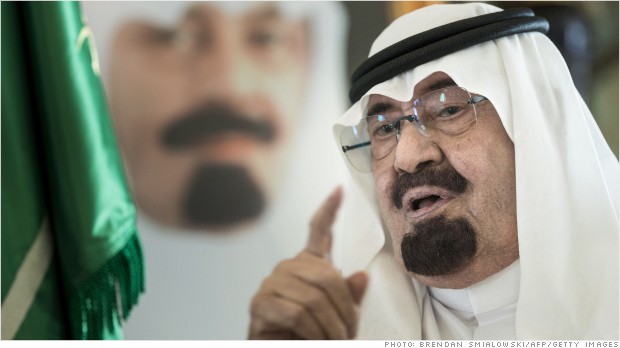 Saudi Arabia's late King Abdullah bin Abdulaziz al Saud.

NEW YORK (CNNMoney)
Oil prices were 2% higher following the death of Saudi Arabia's king, a reaction that was muted by the widespread expectation of a smooth leadership transition and stable oil policy in the world's largest exporter of petroleum.
Crude oil is now trading just above $47 a barrel.
King Abdullah bin Abdulaziz al Saud's health had beendeteriorating in recent weeks, according to the state-run Saudi Press Agency. He was king of Saudi Arabia since 2005 and celebrated his 90th birthday in August.
The transfer of power should be smooth. His half-brother Prince Salman bin Abdulaziz al Saud will assume the throne, Saudi state television reported.
Saudi Arabia has 16% of the world's known oil reserves, according to the U.S. Energy Information Administration. The country is widely seen as the leader of OPEC and has a large influence on energy prices and political stability in the Middle East.
But oil has fallen over 50% since the summer. Crude traded over $100 as recently as July and now trades below $50.
OPEC's decision, led by Saudi Arabia, on Thanksgiving Day to not scale back production accelerated oil's plunge.
Saudi officials have repeatedly said the nation will not cut oil production because they don't want to lose market share. It's unlikely that the new king will alter that stance.
"Everything from the Royal Family and the Saudi Oil Minister in the last 75 days has pointed toward a policy of sustained high exports, and a high stakes game of international 'chicken' with other higher cost oil producers," said Tom Kloza, the global head of energy analysis for the Oil Price Information Service.
Some experts believe the Saudis, at least to some extent, have welcomed falling oil prices as a way to slow the rise of America's shale oil production boom.
Last week Saudi Prince Alwaleed said oil will never return to $100 and that the price crash will allow Saudi Arabia to see "how many shale oil production companies run out of business."
U.S. shale oil companies and related industries have already announced layoffs and cutbacks in spending.
At the same time,Saudi Arabia depends heavily on oil revenues to fund its government. Oxford Economies estimates the country will have negative economic output this year if oil continues to stay at or below $50 a barrel.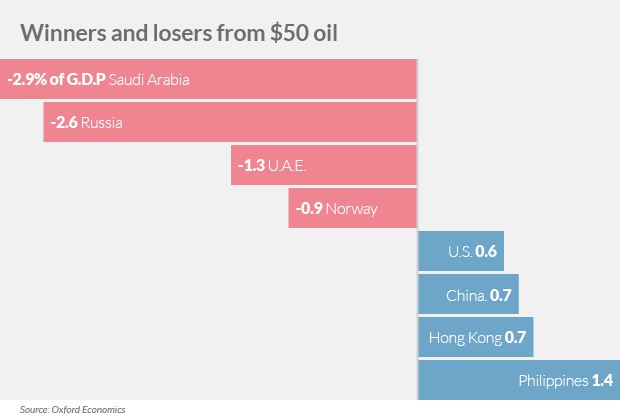 The United States imports about a million barrels of oil a day from Saudi Arabia. Only Canada provides more oil to the U.S.