Jack Ma and Pony Ma, whose business rivalry dates back more than a decade, are starting to look like the best buddies of China's Internet.
Jack, founder of Alibaba Group Holding Ltd., and Pony, founder of Tencent Holdings Ltd., are said to be joining forces for the second time this year by combining two startups they've financed in a $15 billion deal. Meituan.com, the one partly owned by Alibaba, and Dianping.com, backed by Tencent, have been competing to offer local services online. They may announce a merger as soon as Thursday, people familiar with the matter said.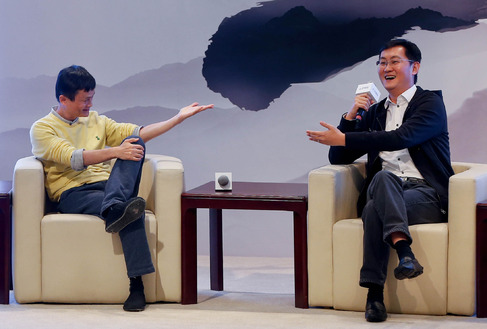 The deal would create a clear leader in a crowded field, just like the two men did earlier this year when they combined Didi and Kuaidi to establish a dominant player in ride-hailing services that could fend off Uber Technologies Inc. Joining forces may allow the longtime rivals to divide China's most promising Internet businesses between them, boosting their own profits while freezing out the competition.
"Business makes strange bed fellows," said Andy Mok, the organizer of Beijing Tech Hive, a series of events linking investors and startups. "They're both obviously very smart, driven business people, but at the end of the day practicality trumps personality."
Smartphone Shopping
Meituan.com is a group-buying site similar to Groupon Inc., where people can get discounts on goods and services by making purchases together. It held about 52 percent of the 77 billion yuan ($12.1 billion) market in the first half of the year, according to a report by researcher Analysys...
More