We had mixed trading again today.
USD/JPY is vulnerable after last week's rally. EUR/USD continues to consolidate after last week's bearish swing. USD/CHF failed a 4th attempt to break above 38.2% retracement. Gold slides further. EUR/GBP completes topping action.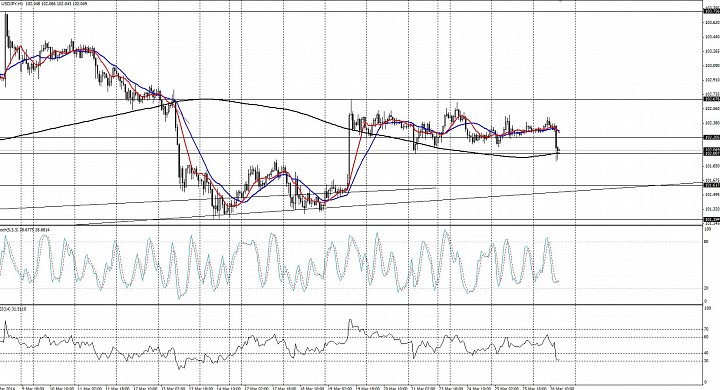 (USD/JPY 1H Chart)
USD/JPY
cracked the 102 consolidation range support. The 1H chart shows the breakout after a failure to extend beyond 102.67. This remains a sideways market until a break above 102.70.  
EUR/USD
is stuck in this week's range between 1.3748 and 1.3875. The market is not uniformly oscillating between the week's high and low, but rather showing volatile swings within.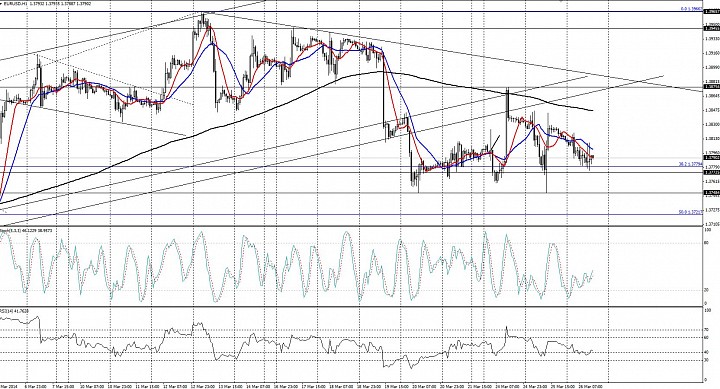 (EUR/USD 1H CHart)
A break above or below the 1.3748-1.3875 range should be a nice directional clue after EUR/USD bulls and bears duke it out.
USD/CHF is also stuck in consolidation after a bullish attempt last week that broke above a falling resistance from January.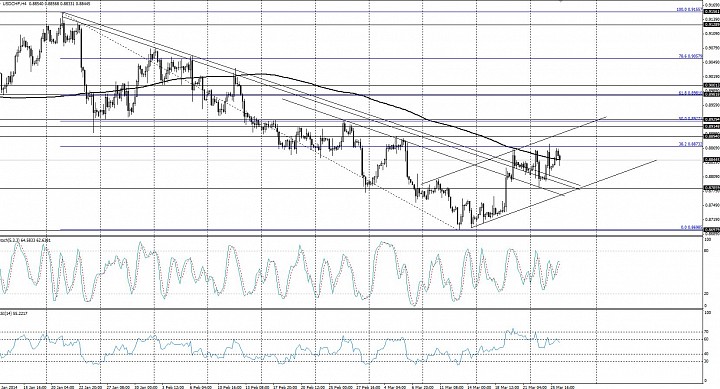 (USD/CHF 4H chart)

In the 4H chart, we see USD/CHF failing to clearly extend above the 38.2% retracement level 4 times. This suggests the market is still in consolidation. BUT because there are so many failed attempts to break higher, a bullish swing that does push through 0.8880 should open up some strong short-term upside risk first toward the 50% retracement level at 0.8927.

Gold continues to slide, now that it has broken below the 2014 rising channel. Today's new low for March extends below the 38.2% retracement level, poised to test the next retracement levels: 1287 at 50%, and 1262 at 61.8%.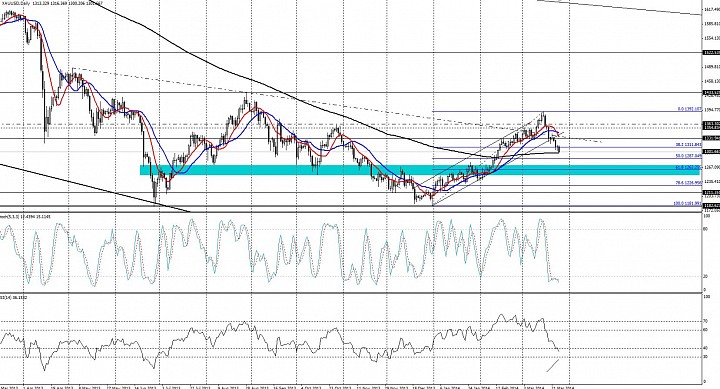 (gold 3/26 Daily chart)
I am not convinced of a bearish reversal in gold. I would wait at least for a significant pullback before considering a sell. If the market slides toward 1262, which is 61.8% retracement and also a previous pivot area.