I have been bullish on 3D Systems (DDD) since it broke above a year-long triangle. Even when price retreated and was trading around the middle of that triangle, I felt like it had a chance to establish a pivot and confirm the bullish outlook after the breakout. This was the market's sentiment as told by price action, until the latest earnings report.
Let's first look at the chart, and you can read a recap of the earnings below.
DDD Daily Chart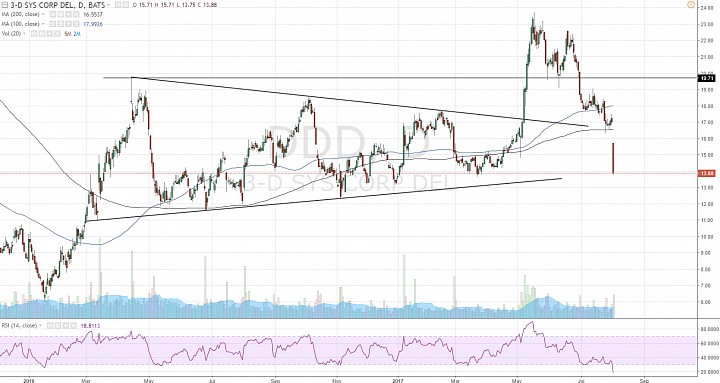 (click to enlarge)
Bullish Breakout Reversed:
- The daily chart shows that in 2016 there was a bullish reversal swing that eventually stalled into a year long triangle consolidation.
- Then, in May 2017, price broke above this triangle and pushed above the 2016 highs. This price action looked promising, like it could be the start of a new long-term trend.
- Even when price came back down to test the triangle around 17.00, the market was still potentially bullish as it held price above the 200-day simple moving average (SMA).
- DDD stalled around 17, which was like the fence between bullish and bearish.
- Today, we can see that the earnings report prompted the market to go to the bearish side.
Bearish Outlook:
- Price is falling sharply and I think there is a chance it will push a little lower, at least towards the 2017 low just above 13.00.
- But I think just above 10, around 11, DDD might find some support.
Zacks.com recommends a hold and I think that hold will cost you a little in the short-term, but if price can find support above 10.00, DDD could still be building a price bottom and still has upside. But the value of money is precious and it might take a while before DDD really takes off - This price bottom building process, otherwise known as a period of accumulation, can go into 2018.

Below is the earnings recap from Zacks.com.
3D Systems Corporation's (DDD - Free Report) posted another huge earnings miss – its second after the last quarter's huge miss ended its streak of three back-to-back quarters of impressive beats. The company reported adjusted loss (including share-based compensation expense) of 7 cents per share for second-quarter 2017, which was way below the Zacks Consensus Estimate of earnings of 6 cents.

Non-GAAP earnings came in at 8 cents per share, plunging 33.3% from the prior-year quarter figure of 12 cents, as modest top-line growth was more than offset by a rise in operating expenses.

In light of weaker-than-expected results, the company's management tweaked the full-year 2017 guidance lower.

Inside the Headlines
The 3D printer maker reported revenues of $159.5 million, reflecting a year-over-year increase of 0.9%. Strong demand for the company's healthcare solutions, along with steady demand for the industrial offerings was largely offset by lower revenues from professional printers. The company also saw growth in production printers, materials, software and healthcare revenues, but lower sales in APAC restricted top-line growth. Revenues missed the Zacks Consensus Estimate of $163 million by a small margin.
3D Systems' Healthcare revenues were up 25% to $48.5 million year over year, primarily attributable to high demand for printers and materials from medical and dental customers. Software revenues totaled $24 million, up 9% on a year-over-year basis.
Materials revenue rose 8% to $43.9 million, thanks to strong production orders and robust contribution from the previously acquired Vertex-Global. The company's Printer revenues were down 14% to $28 million, while on-demand manufacturing decreased 5% to $26 million.

In the quarter, gross margin contracted 30 basis points on a year-over-year basis to 50.6%. The company plans to drive further reductions in cost of sales from supply-chain betterment initiatives and manufacturing improvements, in order to drive margins higher.

In addition, the company's operating expenses flared up (up 4%) to $87.5 million, as R&D expense rose 17% year over year, mainly on account of a rise in focused investments in production application solutions, including Figure 4, metals and materials.
Notable Developments

During the first quarter, 3D Systems had rolled out a next-generation additive manufacturing platform, based on the company's Figure 4 technology and NextDent materials. The company believes that the new platform will bring down cost of operations, reduce fabrication times and produce far less material waste.

In the second quarter, 3D Systems launched the Simbionix SPINE Mentor, a hands-on simulated training and practice tool for minimally invasive spine surgeries. The company also released new products, materials and capabilities at RAPID + TCT 2017 to accelerate its leadership in plastic additive manufacturing.

3D Systems Corporation Price, Consensus and EPS Surprise

3D Systems Corporation Price, Consensus and EPS Surprise | 3D Systems Corporation Quote

Products included the new ProJet MJP 5600, offering print speeds up to two times faster, a larger build volume, and part costs that are up to 40 percent less than competing multi-material 3D printers.The company also rolled out VisiJet CR-BK, a new rigid black plastic material for the ProJet MJP 5600 that enables producers to meet the most demanding product designs and models.
Also, during the quarter, 3D Systems and United Therapeutics joined forces to develop solid-organ scaffolds for human transplants. The multi-year collaboration will integrate 3D Systems' profound healthcare printing and precision expertise with the regenerative medicine and organ manufacturing capabilities of United Therapeutics Corporation.

Cash Flow and Balance Sheet
3D Systems ended the quarter with cash and cash equivalents of $154 million, down significantly from $184.9 million as at Dec 1, 2016. At the end of June, net cash generated from operating activities came in at $18.4 million, significantly lower than the year-ago figure of $31 million.

Guidance
Concurrent with the second-quarter 2017 earnings release, the company revised its guidance for full-year 2017. 3D Systems now anticipates revenues in the range of $643–$671 million, which would reflect year-over-year growth of 2–6% in 2017 (earlier projection: $643–$684 million).
In addition, the company expects to report GAAP loss per share of around 14 cents for 2017 (compared to prior expectations of GAAP earnings of 2–6 cents per share), while non-GAAP earnings are now expected to be approximately 46 cents per share (earlier projection: 51-55 cents per share).

To Conclude
3D Systems' year-over-year bottom-line improvements during second-quarter 2017 are attributable to a host of factors, including solid momentum of healthcare offerings, robust demand for production printers and materials, and higher efficiency in "demand manufacturing services". We believe the acquisition of Vertex-Global Holding B.V will unlock multiple opportunities for the billion-dollar digital dentistry space.

The company is banking on continued double-digit growth in healthcare and sustained growth in software and materials to drive 2017 growth. Even on-demand manufacturing and printer revenues are likely to return to growth.
Also, the company's efforts to streamline its cost structure by focusing on IT infrastructure, go-to-market and innovation are likely to stoke growth. In addition, the company remains bullish about the prospects of Figure 4 technology — the ultra-fast, modular Stereolithography system — designed for the production of plastic parts on the factory floor.
Despite these positives, 3D Systems' broader market concerns have thwarted growth of the premium 3D printing company. The industry is battling a widespread decline in demand for enterprise 3D printers over the past two years. Other headwinds, including economic slowdown, inflation, currency fluctuations and commodity price vagaries, also marred the performance of most players in the industry.

3D Systems currently carries a Zacks Rank #3 (Hold).