Microsoft's (MSFT - Get Report) move to the cloud under CEO Satya Nadella is showing impressive results.
The company's rapid expansion in cloud software and computing drove revenue and earnings growth in the first quarter of fiscal year 2018, Microsoft reported after the bell on Thursday.
Nadella touted gains from enterprise technology to social media and the cloud in an investor call, while gaming sales stagnated.
Earnings of 84 cents per share topped forecasts of 72 cents. Likewise revenues of $24.5 billion came in ahead of consensus expectations of $23.5 billion.
Shares gained 3.3% to $81.50 after the close. Microsoft is up nearly 27% on the year.
"We now have 120 million monthly active users of Office 365 commercial," Nadella told investors during the call. "We have more than 530 million LinkedIn members."
The commercial cloud -- which includes the commercial edition of Office 365, the Azure cloud computing platform and the Dynamics 365 enterprise planning and customer relationship platform -- grew 56% on the quarter and hit an annualized rate of $20.4 billion in sales.
"Microsoft's pivot to the cloud continues to gain steam, with strong momentum of Azure and Office 365," said Moody's Investor Services analyst Richard Lane.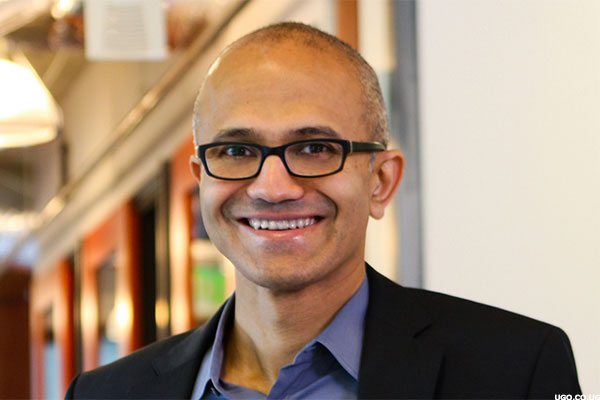 Nadella gave investors an update on Microsoft's recently introduced mixed reality technology, an interface that combines voice, gaze and gesture recognition. "Ford's (F - Get Report) designers are using mixed reality to blend 3D holograms digitally with models and physical production vehicles, allowing them to experiment and iterate on design much more quickly," he said.
More