Bearish Correction: October was a down month for USD/JPY. It fell from the late-September and 2014-high at 110.08 down to 105.19 last week before stabilizing and rebounding. 

USD/JPY 4H Chart 10/22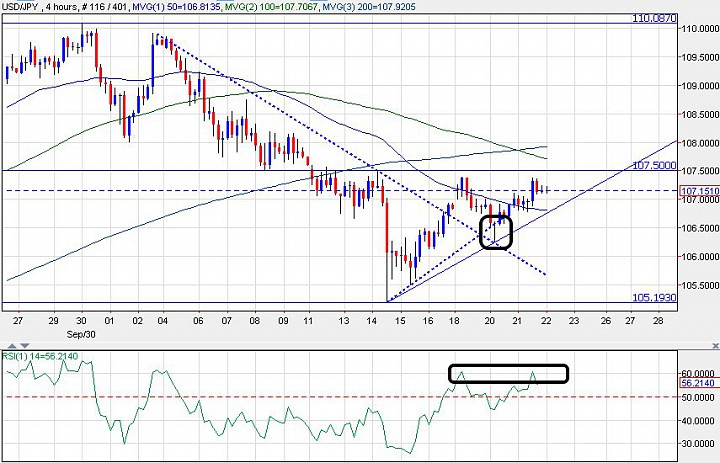 (click to enlarge)
Bullish Rebound: The rally since last week stalled under a support/resistance pivot at 107.50. Also note that the 4H RSI held below 60, which shows that the USD/JPY is still has the October bearish momentum, but is at the cusp of moving away from that (if it breaks above 60).

We should also note that after a brief breach of last week's rising trendline, USD/JPY managed to rally, making that a false break to the downside, and thus suggesting there is further upside risk. 

If price does break above 107.50, and the RSI does break 60, USD/JPY would go from bearish in October to neutral-bullish. There is a bullish bias because the prevailing trend before October is bullish, at least since July-August this year. Thus, a break above 107.50 puts the 110 area in sight.

Watch out for 108.00. Things can get tricky around there. Eventually if price holds north of 108, the bullish outlook should continue. Otherwise, the 110.08 high might be there to stay for a while.