Summary
The low price of oil has pushed energy stocks to new lows. Contrarian investors have started to take advantage of low prices for their portfolios.
The bottom may not be near, though. Buying energy stocks may be like catching a falling knife.
If you can psychologically handle seeing your portfolio in the red and have a long-term horizon, buying energy stocks may be a good strategy for your portfolio.
Summary
The energy market and relatable energy equities seem to be hitting all-time lows every day. This has led to many contrarian investors "bottom-picking" energy equities. Should you, the reader who is interested in the energy industry, really be buying these troubled companies? Can you really handle buying a company that could metaphorically be called "catching a falling knife"? This article should be used as a helpful guide, determining if you are mentally able to invest in the plunging energy industry.
An investment in an energy-related equity can be daring, to say the least. I have seen one of my investments in the energy industry lose >50% since 2014. I have not sold my shares, for I believe in the long-term prospects of the company. If you can't handle seeing one of your position drop down >50%, I would suggest that you do not buy into the energy industry (since it is a volatile time in energy stocks).
There is no way to tell if we have hit a bottom. There may be a more impending drop in the energy industry in the near future. Picking individual energy companies should not be done if you feel pain when your investment falls dramatically. If you are still interested in buying into the energy industry, I would recommend buying an ETF that measures a broad array of energy companies, such as the Energy Select Sector SPDR ETF (NYSEARCA:XLE), the Vanguard Energy ETF (NYSEARCA:VDE), the iShares U.S. Energy ETF (NYSEARCA:IYE) or the PowerShares Dynamic Energy Exploration & Production Portfolio ETF (NYSEARCA:PXE).
How long is your time horizon?
How long is your time horizon? That is, how long are you willing to have your money tied up in a company? If it is under one year, I would say that you should avoid investing in energy stocks and investing in general (that is, unless you are an intelligent speculator or trader). The longer your time horizon, the better. Instead of worrying about short-term gains, an investor should focus on building long-term positions. The former is what I have been doing in regard to cheap energy equities.
Right now is the perfect time to be building long-term positions in energy companies that will be around for years to come. Companies such as National Oilwell Varco (NYSE:NOV), Chicago Bridge and Iron (NYSE:CBI), Exxon Mobil (NYSE:XOM), and Dril-Quip (NYSE:DRQ) are some safer energy plays that have a ton of potential to pull through this rout and come out even stronger. These four companies are all trading near their 52-week lows. Taking advantage of low trailing stock prices to profit from forward long-term gains is a wonderful investing strategy.
Note: An investor or reader interested in the former four companies should do their own due diligence before buying any of those companies mentioned.
An investor who has a long-term horizon of over 5 years, with confidence that they can continue to buy on the dips, may want to consider the energy industry. For example, if you have $25,000 that you want to invest in energy-related equities, and you do not need to use that $25,000 for the next 5-plus years, buying cheap companies now could be very advantageous. Investors should remember that time is a friend in this game. Buying and selling will hinder long-term gains. Use the low energy prices to your advantage to magnify your long-term gains.
What Kind Of Company Should You Be Looking For?
So, you have come to the conclusion that you can handle the psychological effects of seeing your portfolio drop in value. You also have concluded that you have a rather extended time horizon of >5 years in which you would hold onto a single investment. Finally, you have decided that you want to take advantage of the depressed prices of the energy sector. The question that lingers in your mind is: What kind of energy company am I looking for?
In my opinion, investors interested in energy companies should be buying companies with little-to-no debt, high amounts of FCF, and a high potential to make it through this energy rout. I have provided an example of one company you may be interested in.
Note: The company noted below should be used as a starter company. Thus you should find similar companies to the one showcased below. That is, if you are interested in my energy investing strategy.
Dril-Quip
DRQ sells equipment for the offshore oil industry. The majority of the products sold are subsea and surface wellheads, subsea and surface production trees, subsea control systems and manifolds, mudline hangers, specialty connectors, and other associated pipe and drilling production equipment.

(Source: Subsea Equipment Dril-Quip)
DRQ is one of the highest-margin businesses that I have been able to find in the energy industry (with a profit margin and operating margin of 22.14% and 29.38%, respectively). The company is trading for ~$62/share, while its 52-week high is ~$93/share. There have also been a few decent write-ups on Seeking Alpha summarizing DRQ's valuation and business model in the past few years. If you are interested in reading more on the company, I suggest that you read articles by Michael Fitzsimmons or The Value Investor.
| | | | |
| --- | --- | --- | --- |
| Market Cap | 2.36 B | Cash | 382.67 M |
| Revenues | 937.85 M | Debt | 0.00 |
| EBITDA | 306.67 M | EV/EBITDA | 6.03 |
| Shares Outstanding | 38.71 M | EV/Revenue | 1.97 |
| Profit Margin | 22.14% | Trailing P/E | 11.55 |
| Operating Margin | 29.38% | OCF | 195.65 M |
What I like the most about DRQ is its high margins, zero debt with a high cash position, and high OCF. The company is also an undervalued security (its EV/EBITDA is a low 6.03). Investors should remember that these are just DRQ's key metrics. Individuals who are interested in the company should continue their own due diligence before making an investment decision.
DRQ has taken a decent hit to its earnings and revenues so far this year. YOY earnings are down 23.60%, and revenues are down 6.50%. What this means is the company is not immune to the oil downturn. Because the company has zero debt, its FCF is still positive, and it continues to be profitable from a GAAP EPS standpoint, I have a high conviction that DRQ will make it through this energy downturn.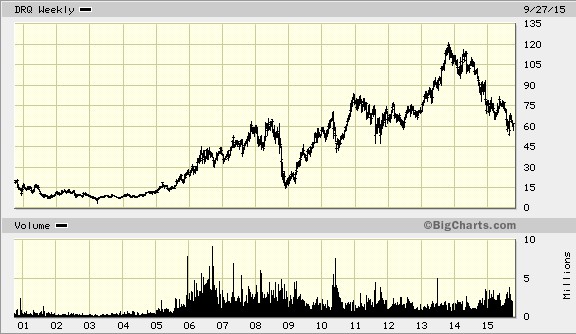 As I stated before, DRQ is just a quick example of energy companies that I look for. In general, I am looking for a company that has a high potential to survive the energy downturn and emerge stronger than it was before. I look for strong balance sheets (high cash, low debt), high-margin businesses (price makers not price takers), companies that can generate high amounts of FCF, and those that look undervalued on a trailing and forward basis. If you do your own due diligence, I am sure you will be able to find outstanding energy companies to invest in.
If you are interested in buying individual energy-related equities, you must ask yourself a few key questions before making an investment decision. First, are you psychologically trained to handle seeing your portfolio drop significantly in value? Will you continue to make rational decisions in order to magnify your long-term gains? Will you be able to continue buying into your chosen equity or equities in the face of the continuation of falling prices? If you can answer yes to all of these questions, investing in individual energy equities may be for you. Secondly, do you have a long-term horizon of at least five-plus years in which you can have your money tied up? If so, the longer your time horizon, the better gains you will have in the future.
If you believe you can psychologically handle seeing your portfolio in the red, plus you have a long-term horizon (where you continue to buy the dips), investing in the energy sector may be a very good strategy for your portfolio. Buying companies with a strong balance sheet and high FCF is my personal strategy. If you have a different strategy when it comes to energy investing, let me and other readers know in the comment section of this article. I know I will continue buying energy equities and patiently waiting for the bulls to return.
Happy investing, and good luck!
More