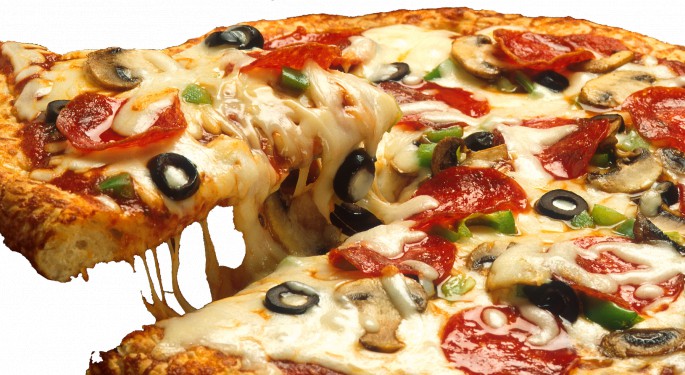 Five years ago, Domino's Pizza, Inc. DPZ newly appointed CEO Patrick Doyle had to relaunch the stagnant pizza restaurant chain. The stock had been slumping since 2007, trading as low as $3.78 by mid-2008. But what did this mean exactly?
It meant ditching the old corporate model, improving the company's supply chain and switching focus to becoming an e-commerce giant among competitors. The change is noticeable, as shares have soared under Doyle's leadership, trading up 512 percent to today's price of nearly $144.
Benzinga attended Domino's local media day on Tuesday.
Supply Chain
The first point mentioned in the presentation was the emphasis on supply chain. Domino's investor relations team honed in on its internal supply chain center. Specifically, Domino's has 17 centers that manufacture its own dough that's then distributed to franchises, so managers don't have to worry about sourcing food.
Given the recent food-borne illness struggles of other chains such as Chipotle Mexican Grill, Inc. CMG, it was telling that the team at Domino's opened their presentation with supply chain at the forefront.
Technology
The company moved into what has set them apart from other pizza chains: Technology. Specifically, eight separate tech products included in their Domino's AnyWare strategy helped illustrate the breadth of technology they covered:
Zero-Click Ordering
Text-To-Order
Tweet-To-Order
Amazon Echo Smart TV
Ford SYNC Voice Ordering
Smart Watches like Android, Apple, and Pebble
Customer Feedback
Many of these initiatives came from simply listening to customer feedback via social media. Doyle said other products had more random origins, including Zero-Click Ordering, which Doyle believes started as an April Fool's joke that picked up steam. The Zero-Click app simply takes consumer data from prior purchases and places your Easy Order after 10 seconds of opening the app. The ability to simply tweet a pizza at Domino's, once a "Pizza Profile" is made, ensures you are spending less time ordering, and catering to the platforms of a younger audience.
The strategy may seem familiar. Benzinga saw a clear pattern between Domino's and another tech company that has had similar growth over the past five years: Amazon.com, Inc. AMZN.
The first similarity the two share is a clear focus on developing a reliable supply chain system for their franchises and distribution centers.
Both companies have made products easier to order through seemingly simple, yet difficult to execute technology. Whether it be Amazon's Dash button, or the Tweet-To-Order and Zero-Click Ordering that Domino's has implemented, both companies strive to make the customer experience quicker and more accessible.
When asked what sets Domino's apart, Doyle stated, "Technology is something we do better than anybody, and they will continue to invest there."
© 2016 Benzinga.com. Benzinga does not provide investment advice. All rights reserved.