A successful portfolio manager is aware of the fact that adding well-performing stocks at the right time is of vital importance. Indicators of a stock's bullish run include a rise in share price and strong fundamentals.
Applied Materials, Inc. AMAT is one such technology stock which has performed well so far this year and has the potential to carry the momentum in near term. Therefore, if you haven't taken advantage of the share price appreciation yet, its time you add the stock to your portfolio.
Let's delve deeper into the factors that make this stock an attractive investment option.
What Makes Applied Materials an Attractive Pick?
An Outperformer: Applied Materials has outperformed the Zacks categorized Semiconductor-Equipment Wafer Fabrication industry in the year-to-date period. The stock returned approximately 28% over this period compared with roughly 23.1% growth recorded by the industry.

Solid Rank & VGM Score: Applied Materials currently sports a Zacks Rank #1 (Strong Buy) and a Value Growth Momentum Score (VGM Score) of 'B'. Our research shows that stocks with a VGM Score of 'A' or 'B' combined with a Zacks Rank #1 or #2 (Buy), offer the best investment opportunities for investors. Thus, the company appears to be a compelling investment proposition at the moment.
Upward Estimate Revision: Estimates for the current fiscal as well as fiscal 2018 moved north over the past 30 days, reflecting analysts' confidence on Applied Materials. Over this period, the Zacks Consensus Estimate for fiscal 2017 increased around 3% to $3.09. The Zacks Consensus Estimate for fiscal 2018 also inched up 1.9% over the same timeframe to $3.23.
Applied Materials, Inc. Price and Consensus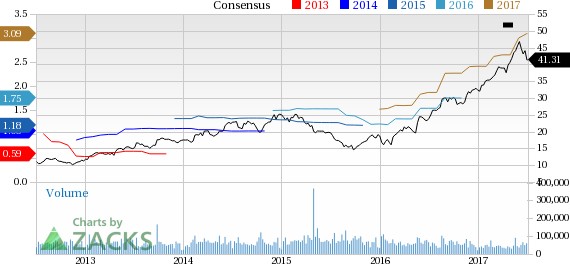 Applied Materials, Inc. Price and Consensus | Applied Materials, Inc. Quote
Positive Earnings Surprise History: Applied Materials has an impressive earnings surprise history. The company outpaced the Zacks Consensus Estimate over the trailing four quarters, delivering a positive average earnings surprise of 3.4%.
Healthy Growth Prospects: The Zacks Consensus Estimate for fiscal 2017 earnings is currently pegged at $3.09, highlighting an anticipated year-over-year growth of 30.7%. Moreover, earnings are expected to register 4.1% growth in fiscal 2018. The stock has long-term expected earnings per share growth rate of 16.6%.
Growth Drivers: Applied Materials is one of the world's largest suppliers of fabrication equipment to semiconductor, LCD and solar PV cell manufacturers. The company's inflection-focused innovation strategy is the main growth driver.
Applied Materials has a solid product line and management has stepped up investments to prepare for the ongoing transition to larger wafer sizes and smaller process nodes. The demand for its products and services is expected to remain strong in the near future, driven by continuous adoption of new technologies by semiconductor and display customers. The company also sees significant opportunities in the patterning market.
Additionally, the company remains strongly positioned in China where it foresees growth in semiconductor orders. The decision of the Chinese government to reduce its semiconductor imports by building domestic capabilities is likely to bolster Applied Materials' revenues over the long run.
Other Stocks to Consider
Other stocks worth considering in the broader technology space include Red Hat RHT, DST Systems Inc. DST and Oracle Corporation ORCL, all carrying a Zacks Rank #2. You can see the complete list of today's Zacks #1 Rank stocks here.
Long-term expected EPS growth rates for Red Hat, DST Systems and Oracle are 14.9%, 10% and 10.3%, respectively.
5 Trades Could Profit ""Big-League"" from Trump Policies
If the stocks above spark your interest, wait until you look into companies primed to make substantial gains from Washington's changing course.
Today Zacks reveals 5 tickers that could benefit from new trends like streamlined drug approvals, tariffs, lower taxes, higher interest rates, and spending surges in defense and infrastructure. See these buy recommendations now >>
Want the latest recommendations from Zacks Investment Research? Today, you can download 7 Best Stocks for the Next 30 Days.
Click to get this free report
DST Systems, Inc. (DST): Free Stock Analysis Report
Red Hat, Inc. (RHT): Free Stock Analysis Report
Oracle Corporation (ORCL): Free Stock Analysis Report
Applied Materials, Inc. (AMAT): Free Stock Analysis Report
To read this article on Zacks.com click here.
Zacks Investment Research