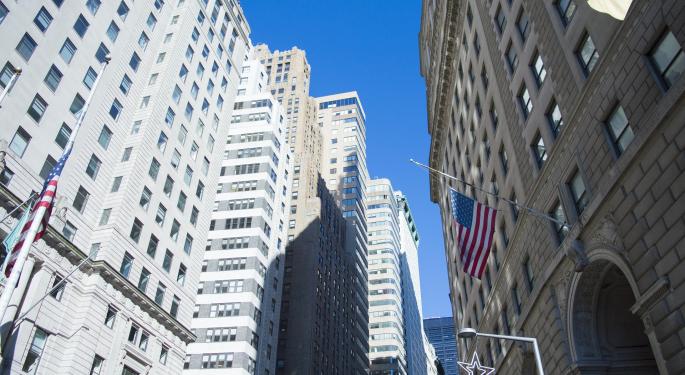 Below is a tool used by the Benzinga News Desk each trading day -- it's a look at everything happening in the market, in five minutes. Apply for daily AM access by clicking here or email minutes@benzinga.com.
Macro Focus
The Dow Jones and S&P 500 are on a four-day win streak after closing Wednesday at another record high. U.S. stocks were on track to extend their run on Thursday morning, with futures moving higher ahead of a rate decision from the Bank of England that could force the Federal Reserve to delay its next rate hike.
Bank of England actually kept key interest rates on hold, suggesting further loosening to cushion economy after Brexit. Economists and investors were expecting a rate cut to 0.25 percent, which would have been a new low in the central bank's 322-year history.
USA Initial Jobless Claims for July 8 254.0K vs 265.0K consensus estimate. USA Continuing Claims for July 1 2.15M vs 2.13M consensus estimate.
USA PPI (MoM) for Jun 0.50% vs 0.30% consensus estimate. USA PPI (YoY) for Jun 0.30% vs -0.10% consensus estimate.
Here is a schedule of key economic data points for today.
BZ News Desk Focus
Yum Brands YUM Reports Q2 EPS $0.75 vs. Est. $0.74, Rev. $3.008B vs. Est. $3.09B
BlackRock BLK Q2 EPS $4.78 vs $4.77, Revenue $2.8B vs $2.8B est
JPMorgan JPM Q2 EPS $1.55 vs $1.43 est, Revenue $25.2B vs $24.2B est
Delta Airlines DAL Q2 EPS $1.47 vs $1.42 est, Revenue $10.4B vs $10.5B est
Benzinga reported Wednesday that Level 3 Communications LVLT is reviewing strategic alternatives. These may include a sale of the company or a large buyback. An industry source told Benzinga that Comcast CMCSA is a potential buyer for Level 3.
Sell-Side Themes
Citigroup analyst Michael Rollins, responding to the Benzinga report, said he would "not dismiss the possibility" of Level 3 and Zayo Group ZAYO considering a merger. Wells Fargo's senior analyst Jennifer Fritzche, in a note to clients, said she suggested Level 3 Communications will pursue strategic M&A options on numerous occasions.
Jefferies was the latest firm to weigh in on the energy sector.
Sell-Side's Most Noteworthy Calls
Baird downgraded Brocade BRCD to Underperform.
JPMorgan downgraded Wynn Resorts WYNN to Neutral.
UBS upgraded Procter & Gamble PG to Buy.
Barclays upgraded Southern Co SO to Overweight.
Chardan initiated coverage on Achillion Pharmaceuticals ACHN at Sell.
Stifel initiated Fortive (NYSE:FTV) at Hold.
Deal Talk
Goldman Sachs and Bass Pro Shops are close to buying retail hunting giant Cabelas CAB, The New York Post has learned. Private equity suitors including Apax Partners and TPG Capital have dropped out of the process. "Bass is the only buyer around it," a source said.
Monsanto MON has restarted talks with BASF BASFY regarding a potential combination of their agrochemicals businesses, according to Bloomberg. Talks with Bayer BAYRY, whose $122 per share offer was rejected, are said to be continuing.
In The News
Donald Trump posted this Tweet Wednesday night: "I will be making the announcement of my Vice Presidential pick on Friday at 11am in Manhattan. Details to follow."
Former London Mayor Boris Johnson has emerged after being named as foreign secretary by new Prime Minister Theresa May.
Tesla TSLA put a cheaper version of its Model X SUV on the market. The Model X 60D start at $74,000. That would be $66,500 after a $7,500 federal tax credit, which is how Tesla usually prefers to talk about its prices.
Blogosphere
"Just spent 2 days recruiting for an entry level ops position in an Investment bank. Here are my tips for those starting out."
Trending
JPM DAL VRX SPY YUM BL MYCC LABD TSM OMC DUST RRC LPI ESIO [StockTwits]
The annual ESPYs helped fill time when there are no sports on TV. The ceremony began by addressing the run of tragedies that have shaken the country recently. "The system is broken," Carmelo Anthony said as he joined Chris Paul, Dwyane Wade and LeBron James. Zaevion Dobson won the Arthur Ashe Award for Courage; The 15-year-old died protecting his friends from gunfire.
© 2016 Benzinga.com. Benzinga does not provide investment advice. All rights reserved.