MIAMI, Fla. (MarketWatch) — The allure of penny stocks is simple: They don't cost much money and promise big profits. But trading penny stocks is also a good way to lose money.
TRADING STRATEGIES: February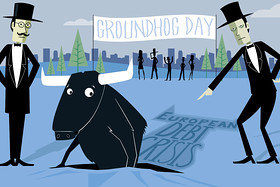 Trading February's loopy markets.
• Hulbert: The groundhog won't see any bears
• Extra: Should gold bugs buy miners or bullion?
• Kudla: Auto stocks are ready to roll
• Kacher & Morales: Precious metals looking up
• Kahn: We are living in a material world
• Lowell: Fear and leap year
•
•
Omar Aguilar, chief investment officer at Charles Schwab, tells MarketWatch's Jonathan Burton investors are transitioning to a search for growth from a flight to quality.
Sure, it's possible to profit when you understand the game, but the odds are against you when you don't. And worse: manipulators and scammers often run the penny-stock game.
For investors who can't afford shares of Google or Apple, the potential gains from trades like this are too good to pass up. So penny-stock trading thrives. With a relatively small investment you can make a nice return if — and this is a big if — the trade works out. For example, say you buy 10,000 shares of a $.30 stock for $3,000. If the stock reaches $1, you've made $7,000, doubling your money. Read more: 5 strategies if you have less than $3,000 to invest.)
Penny stock promoters make sure to attach a disclaimer to their email, Twitter, or Facebook page, and take advantage of this language to embellish and deceive. Read more: Stock touts prey on investors' inflation fears.
Penny stocks and their promoters also tend to stay one step ahead of securities regulators, though just last month the Securities and Exchange Commission charged a Florida-based firm, First Resource Group LLC, with penny-stock manipulation. Read more: Simple rule: Don't buy a penny stock.
Even with these clear dangers, some people insist on trading the pennies. So, if you find yourself on the receiving end of a telephone call from a penny-stock promoter, or you spot an advertisement that promises dollars from your pennies — and you still decide that maybe penny stocks aren't wooden nickels, just remember these 10 rules:
1. Ignore penny-stock success stories
Timothy Sykes, a penny-stock expert who trades both long and short, says you must not believe the penny-stock stories that are touted in emails and on social media...
More