EUR/AUD has been sliding since August after it almost pushed to 1.66. As we can see in the daily chart, the pair first consolidated above 1.56 and under 1.62, but eventually fell through the consolidation support. The formation of the price top has resulted in further downside as price tagged 1.52 last week before a bit of a squeeze back up. However, as price failed to break 1.56 and a falling speedline, EUR/AUD remains bearish with downside risk towards 1.50.
EUR/AUD Daily Chart 10/31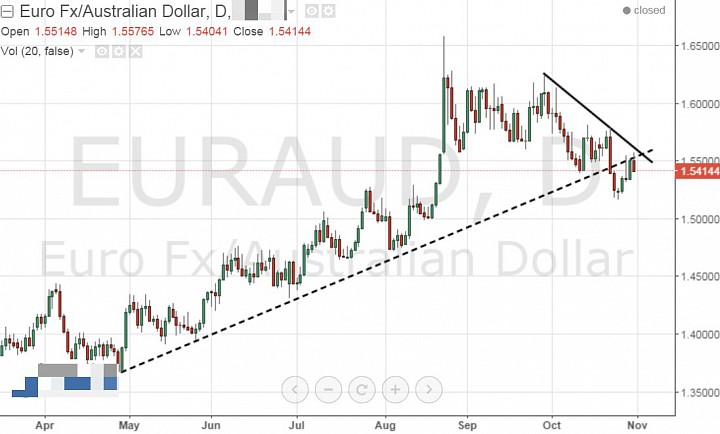 (click to enlarge)

The daily chart shows that price has broken below a rising trendline after it cleared below 1.55. Last week price came up to push above 1.55, but we can still say that there is resistance in this area. Note that the current resistance is essentially the support of the consolidation throughout September. Thus price action in EUR/AUD remains bearish with at least the 1.50 handle in sight.

EUR/AUD 4H Chart 10/31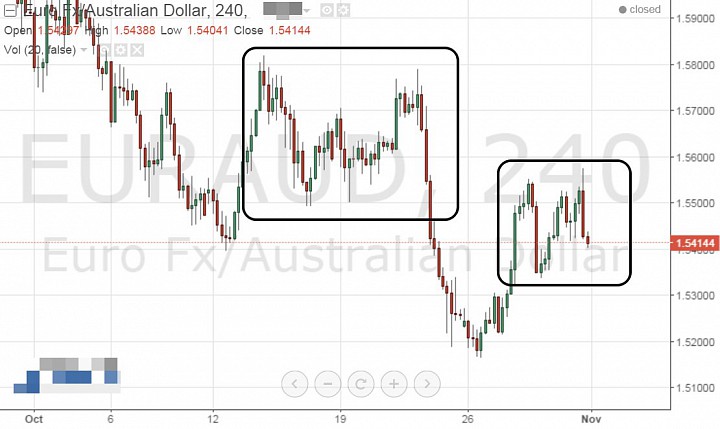 (click to enlarge)
Taking a look at the 4H chart, we can see that the short-term trend is still bearish simply based on the fact that there are lower highs and lower lows. Also note that in the past couple of sessions, price has consolidated and might have a similar structure as the one we saw in the middle of the month. Also, bearish candles are starting to take over, closing the week with a bearish engulfing candle then a test of 1.54. 

The backdrop is bearish in the medium-term, and the price action is bearish in the short-term. We are likely going to see a slide towards the 1.52 handle this week, with risk of EUR/AUD breaking to 1.50.