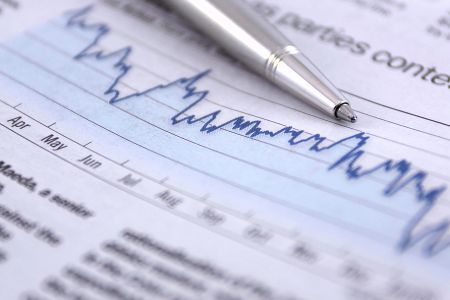 Crude oil inventories still on track to peak in the next few weeks.
**NEW** As part of the ongoing process to offer new and up-to-date information regarding seasonal and technical investing, we are adding a section to the daily reports that details the stocks that are entering their period of seasonal strength, based on average historical start dates.   Stocks highlighted are for information purposes only and should not be considered as advice to purchase or to sell mentioned securities.   As always, the use of technical and fundamental analysis is encouraged in order to fine tune entry and exit points to average seasonal trends.
Stocks Entering Period of Seasonal Strength Today:
No stocks identified for today
The Markets
Stocks pulled off of their highs on Wednesday as the US Dollar strengthened versus other currencies ahead of Thursday's ECB meeting.  The currency benchmark bounced again from the lower limit of a declining trend channel, attempting to find a floor at horizontal support around 93; the Philadelphia Euro index pulled back from resistance around 115.  Investors will be parsing comments from Mario Draghi very closely, looking for a catalyst to either hold resistance on the Euro or fuel a breakout above the upper limit of a 16-month trading range.  The weak US Dollar has been a huge benefit to equity and commodity prices since the middle of February and now that the currency is back to a pivotal point, it warrants very close attention.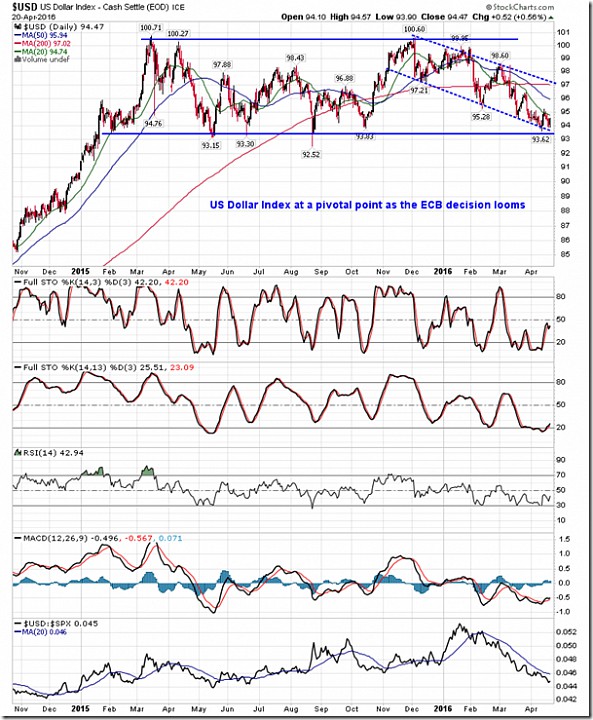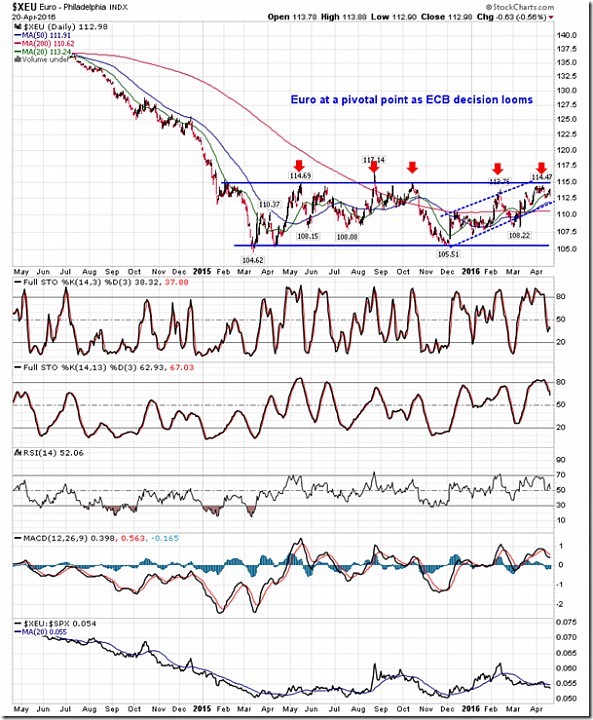 Turning to yesterday's EIA inventory report, crude oil inventories rose by 2.1 million barrels last week, much less than earlier estimates calling for an over 3 million barrel build.  Gasoline inventories declined by a very marginal 100,000 barrels, battling with higher demand and higher production as we progress closer to peak driving season.  The days of supply of oil remained unchanged at 33.3, continuing to show signs of topping as demand for refined products outweighs supply pressures.  Oil inventories still remain on track to peak within the next few weeks, barring any unexpected imports outside of seasonal norms.   Production in the US continues to decline, showing a completely opposite change from what was observed this time last year when production continued to increase into June.  Adding the fundamental factors together, investors bid the price of oil higher on Wednesday, adding over 3% and cementing the 200-day moving average as a level of support.  The energy commodity bounced at the start of the week from an open gap charted in the prior week, maintaining its upward trend from the February low.  When prices respect and continuously chart levels of support, it is difficult to be anything other than bullish of the ongoing trend.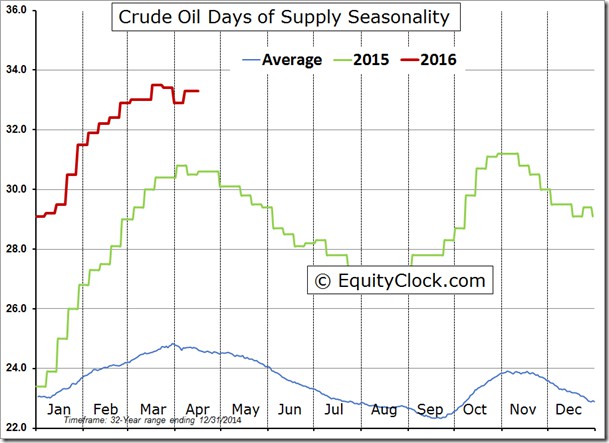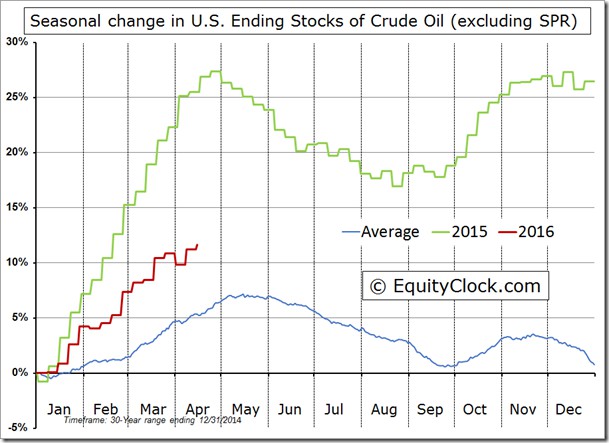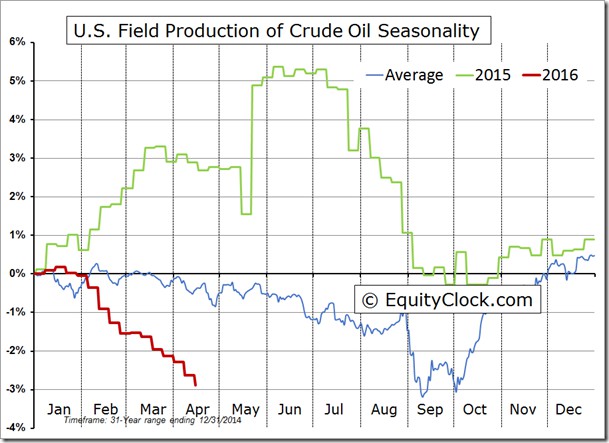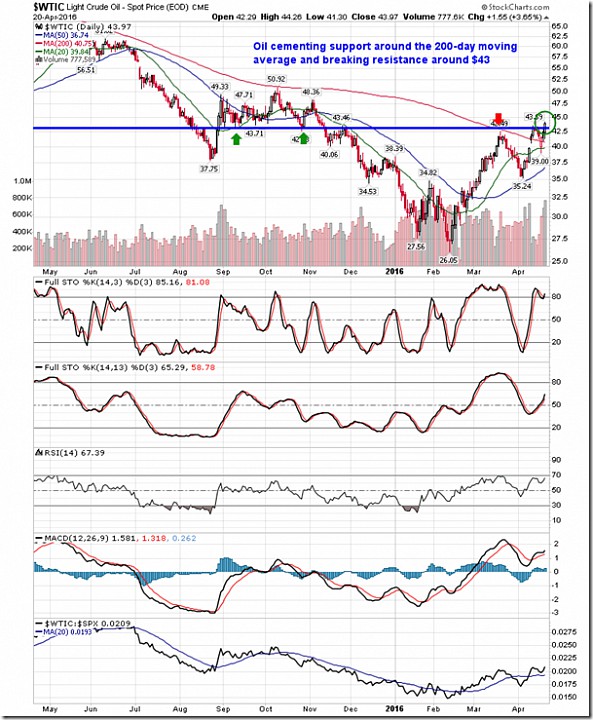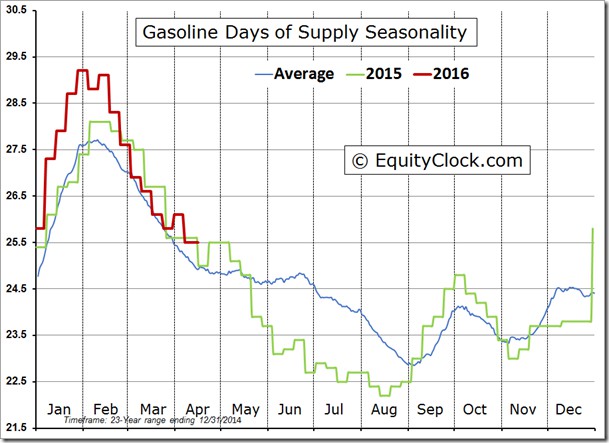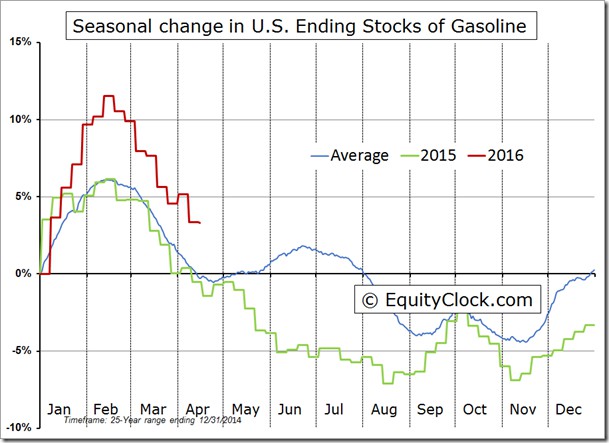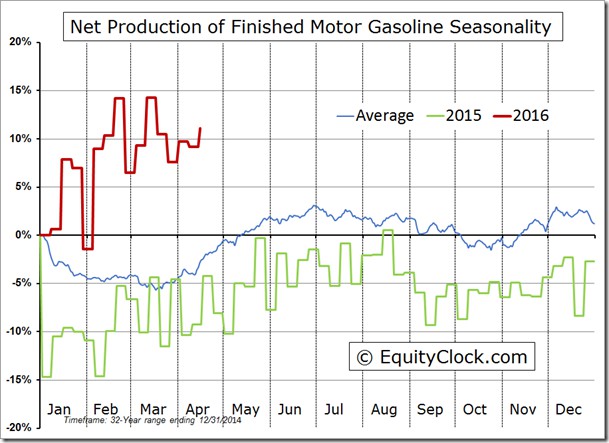 On the economic front, a report on existing home sales provided some optimism that the spring housing market may not be as bad as what yesterday's housing starts suggested.  The headline print indicated that existing home sales increased 5.1% last month to a seasonally adjusted annual rate of 5.33 million, beating estimates calling for 5.268 million.  Stripping out seasonal adjustments, sales of existing homes increased by 33.8%, which was slightly better than the average increase for March of 32.1%.  The year-to-date change at –3.7% remains below the average increase for the first quarter of 2.0%.  While certainly not a robust housing market as the economic recovery matures, the unofficial start to the spring selling season is certainly headed in the right direction with still three more months to go in the positive trend.  What remains a headwind is the high price of homes, which has jumped back to an above average change, year-to-date.  Further housing data will be released at the start of next week, including a report on new home sales, pending home sales, and house prices.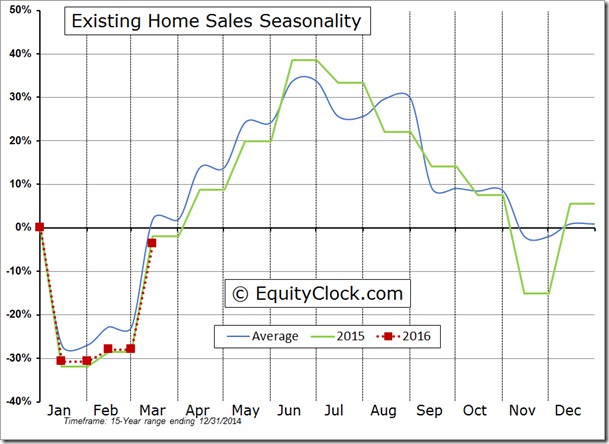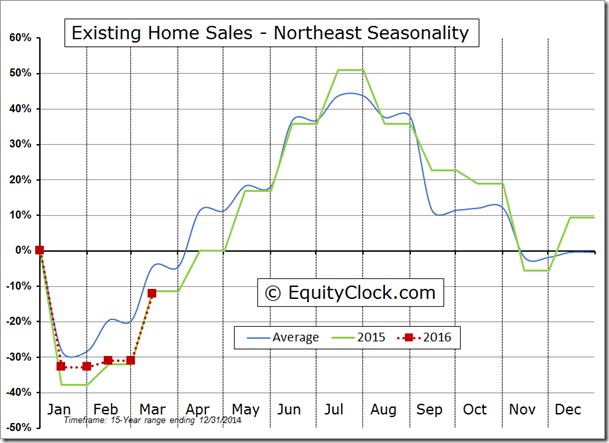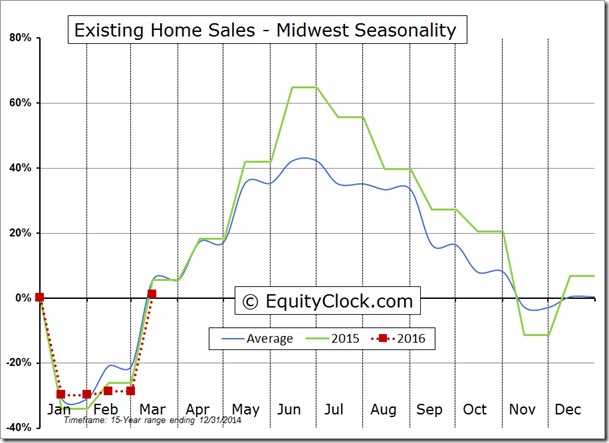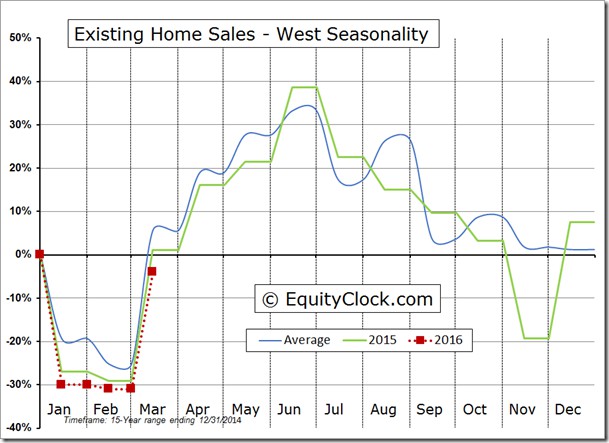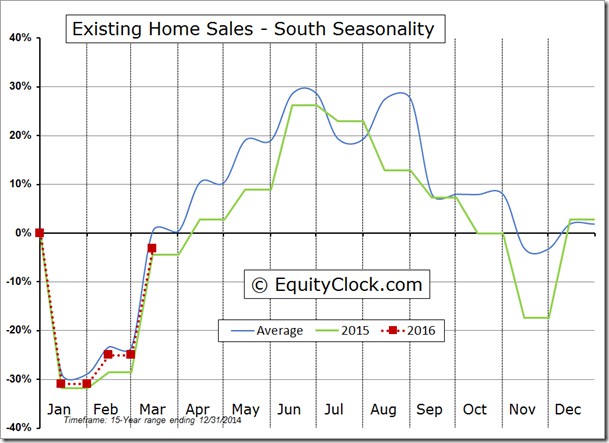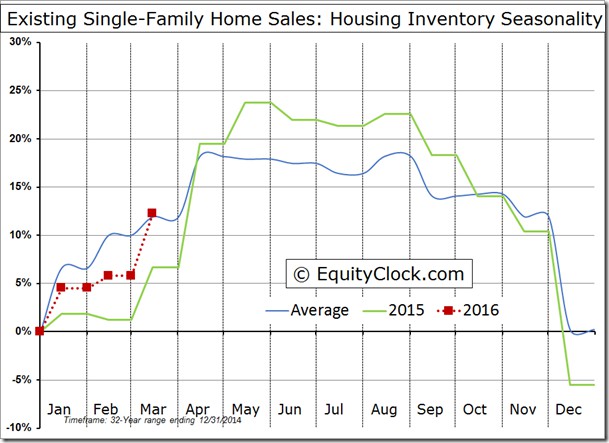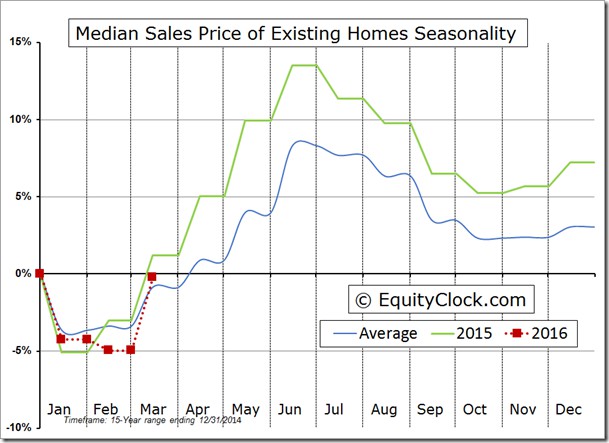 Sentiment on Wednesday, as gauged by the put-call ratio, ended bullish at 0.88.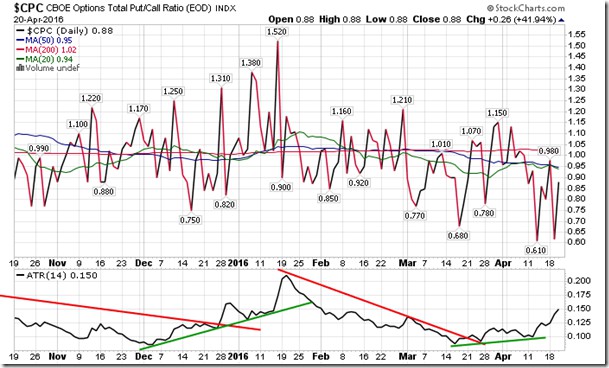 Seasonal charts of companies reporting earnings today:
S&P 500 Index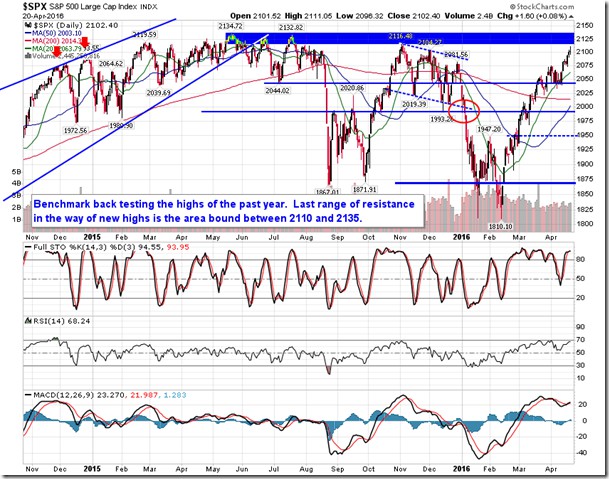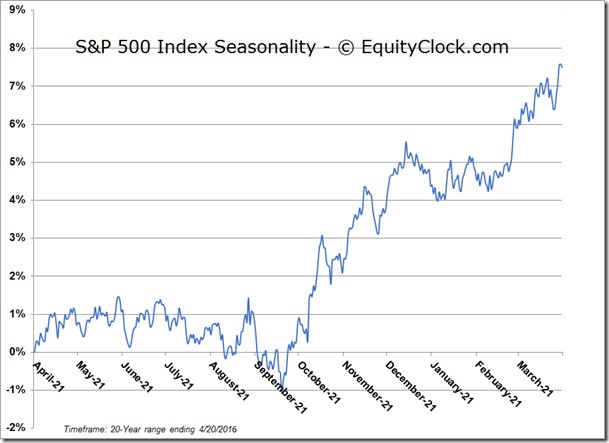 TSE Composite