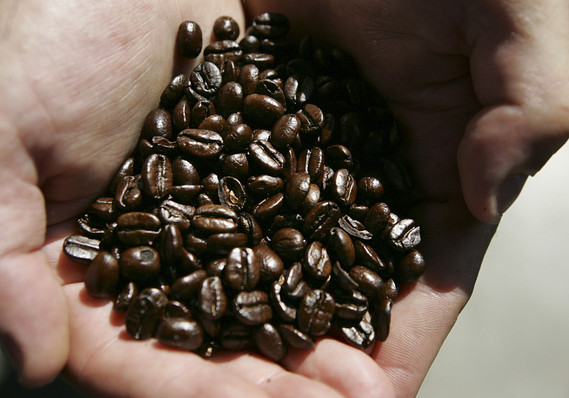 Coffee prices have been cut by nearly half from their peak. Many purveyors have passed on the savings to their customers, but not Starbucks. If that was not enough, Starbucks recently increased prices the timing of which is pointed out on the annotated chart. But regardless of the price of a cup of coffee, the question for this column lies in whether or not falling coffee prices will have any impact on Starbucks stock.
The chart compares the stock performance of Starbucks SBUX, -0.42% with the iPath Bloomberg Coffee Subindex Total Return ETN JO, -3.44% Even though it is better to trade coffee futures, I have chosen the ETN because not many investors trade futures. The Y axes scale on the chart is percentage gain or percentage loss starting from the beginning period of the chart.
Where are coffee prices headed?
The chart starts from the last peak in the price of coffee. Coffee had run up due to drought and "rust" in some of the world's major coffee producing areas. Coffee rust is caused by a fungus, la roya. Famously, this fungus became so wide spread in Sri Lanka back in 1860 that Sri Lanka was forced to destroy all coffee plantations and start growing tea.
As rust was brought under control and drought conditions improved, coffee prices started falling. They have fallen far below the price level from which they had previously started the up spike.
Going forward there are two schools of thought on coffee prices. The first thought is that the coffee prices are extremely depressed. Therefore, there is not much downside risk but there is significant upside potential.
From a technical perspective, lately coffee prices have been moving in a downward sloping channel as shown on the chart. As the chart shows, so far every attempt to break out on the upside has failed.
Historically when a commodity is very oversold and moves in a downward-sloping channel, it is more likely to break to the upside than the downside.
Here is the second thought that throws a monkey wrench in the first thought. The chart shows release of Brazilian harvest information by Procafe. This release was important because the Brazilian harvest is the largest in the world.
The release stated that the harvest would be 20% to 30% below the prevailing estimate of 45 million to 42 million bags. There is also a report that only 8% to 12% of the harvest would pass the 17 screen grade compared to the typical 20%-30%. Coffee that passes 17 screen grade is in high demand for export from Brazil.
http://www.marketwatch.com/story/what-the-price-of-coffee-me...