(Oilprice.com) Oil prices surged more than 8 percent on Wednesday as OPEC shocked the world and reached an agreement to cut production. If OPEC members succeed in implementing the deal, set to take effect in January, it could erase the global surplus in an instant. (Full Article on Oilprice.com)
USDWTI Weekly Chart 12/1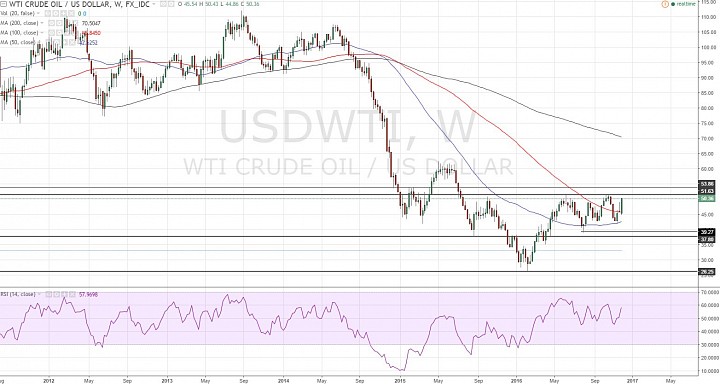 (click to enlarge)

Heading to the Neckline at 52:
- The daily chart shows a market that has been essentially consolidating between 40 and 50. 
- We could also say that the price action since August has been a price bottom, something like a head and shoulder.
- In the price bottom analogy, the "neckline" or critical resistance is around 51.60. 
- A break above 52 should essentially complete the price bottom and open up a bullish market. Otherwise, it is still in sideways consolidation with 38-52 as the range.

Next Key Resistance Around 60:
- There are many skeptics on this deal because it involves many moving parts and essentially involves game theory when it comes time to whether a nation will hold up its end of the bargain. 
- Still, with the current information, it looks like USDWTI has upside to 60.00, assuming it will break above 52.
- 60-62 involves a common resistance area back in May and June. 
- If skepticism is not proven wrong, then the market might feel uncomfortable with price going above 60, and might even sell around 60.