With the launch of the iPhone 8 just around the corner, sellside analysts are scrambling to revise their forecasts and position themselves "correctly" ahead of what will be the most anticipated new event in recent Apple history. In that context, JPM's Rod Hall today updated his projections of how he envisions the upcoming launch will look, stating that he now expects a slower OLED production start, and adding that JPM is reducing its iPhone Pro volume expectation "to reflect data points we have been picking up since late May related to a slower production start for the flagship OLED phone." In doing so JPM has slashed its September iPhone sales forecast from 9 million to just 2 million, and its Q4 sales forecast from 49.5 million to 42.2 million.
Specifically, Hall writes that "various data points post our initial March 26 "Super-cycle Me" report support a slower start to production of the OLED iPhone. In our original model we had forecast 9m units sold in September, and we now reduce that number to ~2m units. We increase our FY18 unit forecasts by about the same amount to reflect time-shifted demand."
Some other forecast revisions from JPM:
New iPhone shipments estimate: Our total iPhone shipments estimate for FQ4 is now 42.2m, reduced from our prior 49.5m forecast. Our FY18 iPhone shipments estimate is now 270.2m, up from our previous estimate of 262.9m.
Assuming higher iPhone ASP: We are increasing our ASP assumption for the iPhone Pro by $100 to $1,100 as we believe production costs are slightly higher than we had originally anticipated. We also believe that the higher ASP is a critical demand control variable for a new tier of iPhone.
New iPhone ASP estimate: We reduce our blended iPhone ASP estimate for FQ4 to $629 from $681 due to a lower mix of iPhone Pros. Our FY18 iPhone ASP estimate increases to $759 from $717 consistent with our ASP and mix changes.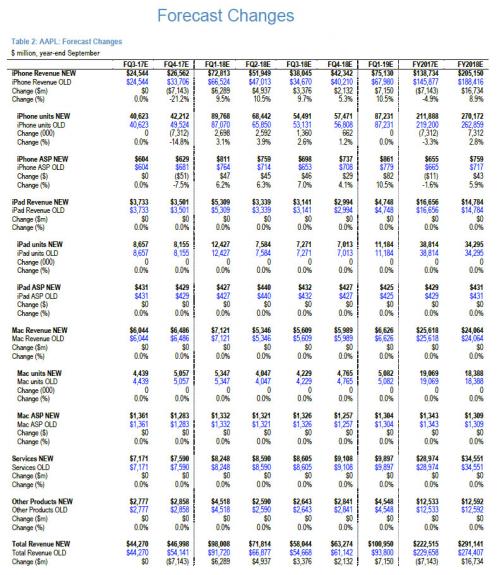 However, in an attempt not to spook the stock, JPM (which has AAPL "Overweight" with a $165 P/T) notes that "these data points have long been known by the market, in our opinion, so we believe these model changes are already largely reflected by Apple's stock and the supply chain. Importantly, we do not believe that Apple's production schedule is still changing materially with most current delay reports simply dated reverberations of decisions Apple made back in the spring. We expect a small amount of late September EMS output for the Pro model and then ramping production through October with target output levels achieved in late October/early November."
As a result, JPM notes that it is forecasting FQ4 total revenue of $47.0bn (cons: $50.0bn), GAAP gross margin of 38.1% (cons: 38.3%), GAAP EBIT margin of 25.4% (cons: 25.0%), and GAAP EPS of $1.78 (cons: $1.85), and has the following comment on valuation: "We retain our December 2018 price target of $165 and keep Apple in our U.S. Analyst Focus List under the Value strategy. Our price target is based on an assumed ex cash P/E of 11x on our CY'18 EPS estimate. We see 11x as reasonable considering Apple's current trading multiple on consensus EPS of 12x."