Philip Morris, Japan Tobacco square off in e-cigarette battle
Vapor-producing device sales rose fivefold in Japan last year
Competition to sate Japanese nicotine addicts is heating up.
Philip Morris International Inc. and Japan Tobacco Inc. have rolled out products that are heated -- not burned -- in battery-charged devices, seeking to appeal to smokers who want their nicotine fix without the usual smell and smoke. The move, part of the rapidly growing global vaping trend, has created a bright spot on Japan's otherwise bleak tobacco market.
The approach is winning devotees because it avoids the part of smoking that involves setting tobacco on fire and inhaling the smoky fumes. In fact, demand for the cigarette alternatives -- while still tiny compared with the paper-rolled type -- has grown faster than manufacturers had anticipated, leaving Japan Tobacco grappling with a supply bottleneck and ceding ground to Philip Morris, the world's largest tobacco company.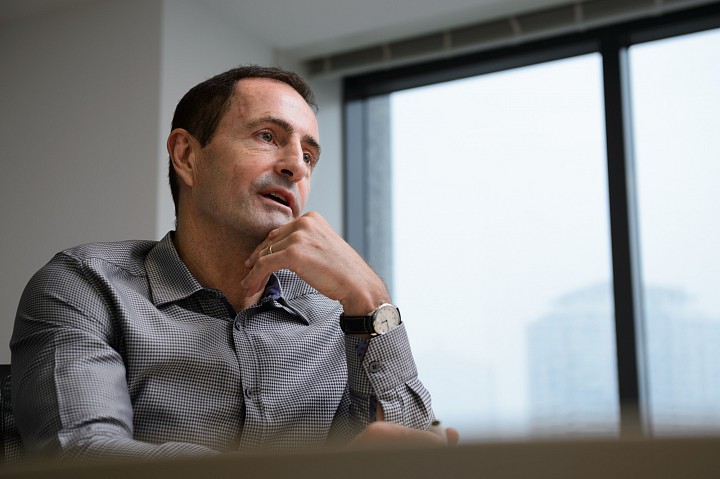 "Our goal for Japan is to switch every consumer we have to this," said Paul Riley, who joined Philip Morris in Sydney in 1988 and became its Japan unit's president last September. "For me, it's like a no-brainer. The biggest thing is we know that smoking kills. If we've got an alternative to that, that's a pretty good reason to switch."
$50 Billion Market
Sales of electronic nicotine delivery systems are booming. Within a decade, the industry has grown from a single manufacturer in China in 2005 to 466 brands on the market, according to the World Health Organization. More than $50 billion may be spent annually on the devices worldwide by 2030, the WHO says, noting "concern about the role of the tobacco industry in this market" and the potential for the products to serve as a "gateway to nicotine addiction."
Most of the products haven't been tested widely enough by independent scientists to gauge any harm-reduction benefits and to determine whether they can help smokers quit. Still, the reduced exposure to toxicants of well-regulated devices by adult smokers as a complete substitution for cigarettes is likely to be less toxic for the smoker than conventional cigarettes or other combusted tobacco products, the Geneva-based WHO said...
More