You know Merkel, Draghi, Dijsselbloem et al. have a problem when... More than one in three Greeks (35%) in 2014 approved of Russia's leadership, while fewer than one in four (23%) approved of the EU's leadership.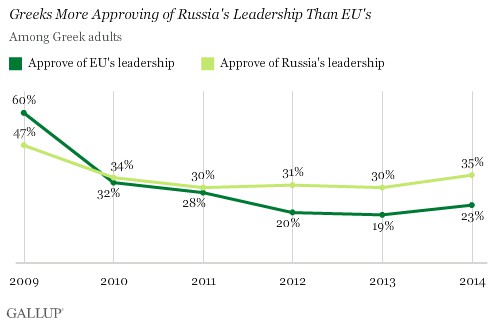 Greeks' higher approval ratings may reflect the cultural, religious and economic ties that Greece has enjoyed for years with Russia, one of the country's major trading partners. But they also echo Greeks' strong displeasure with the EU's leadership, which they are more likely to have an opinion about than Russia's. Nearly as many Greeks have no opinion of Russia's leadership (30%) as approve (35%) or disapprove (35%).
*  *  *
It would appear the people will not be too pupset should the Putin Pivot provide the next level of financial aid?