The Walt Disney Company DIS just released its fourth quarter and full fiscal 2017 financial results, posting earnings of $1.13 per share and revenues of $12.78 billion. Currently, Disney is a Zacks Rank #4 (Sell) and is down over 3% to $99.56 per share in after-hours trading shortly after its earnings report was released.
Disney:
Beat earnings estimates. The company posted earnings of $1.13 per share, just beating the Zacks Consensus Estimate of $1.12 per share.
Missed revenue estimates. The company saw revenue figures of $12.78 billion, missing our consensus estimate of $13.15 billion.
Walt Disney Company's Q4 earnings per share jumped 3% year-over-year. However, the company's fourth-quarter revenues dipped by 3%.
Disney's full-year earnings fell from $5.73 per share to $5.69 per share. On top of that, the company's full-year revenues dropped from $55.63 billion to $55.14 billion, which marks a 1% decline.
Disney's Media Networks revenues also experienced a 3% decline from the year-ago period to $5.5 billion.
The company's operating income from its Cable Networks dropped by $15 million to $1.2 billion. ESPN's results were "comparable to the prior-year quarter as higher programming costs and lower advertising revenue were offset by higher affiliate revenue."
Disney's Broadcasting unit saw its operating income fall by $42 million to $229 million, due in large part to lower advertising revenues and a drop in program sales. Revenues in this unit declined 11% to $1.51 billion.
"No other entertainment company is better equipped to navigate the ever-evolving media landscape, thanks to our unparalleled collection of brands and franchises and our ability to leverage IP across our entire company," CEO Robert Iger said in a statement.
"We look forward to launching our first direct-to-consumer streaming service in the new year, and we will continue to invest for the future and take the smart risks required to deliver shareholder value."
Here's a graph that looks at Disney's Price, Consensus and EPS Surprise history:
Walt Disney Company (The) Price, Consensus and EPS Surprise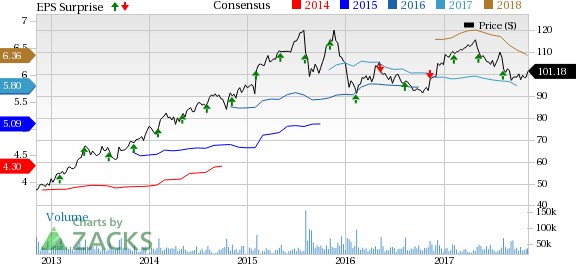 Walt Disney Company (The) Price, Consensus and EPS Surprise | Walt Disney Company (The) Quote
The Walt Disney Company, together with its subsidiaries and affiliates, is a leading diversified international family entertainment and media enterprise with five business segments: media networks, parks and resorts, studio entertainment, consumer products and interactive media.
Check back later for our full analysis on Disney's earnings report!
Today's Stocks from Zacks' Hottest Strategies

It's hard to believe, even for us at Zacks. But while the market gained +18.8% from 2016 - Q1 2017, our top stock-picking screens have returned +157.0%, +128.0%, +97.8%, +94.7%, and +90.2% respectively.

And this outperformance has not just been a recent phenomenon. Over the years it has been remarkably consistent. From 2000 - Q1 2017, the composite yearly average gain for these strategies has beaten the market more than 11X over. Maybe even more remarkable is the fact that we're willing to share their latest stocks with you without cost or obligation. See Them Free>>
Want the latest recommendations from Zacks Investment Research? Today, you can download 7 Best Stocks for the Next 30 Days.
Click to get this free report
Walt Disney Company (The) (DIS): Free Stock Analysis Report
To read this article on Zacks.com click here.
Zacks Investment Research