We expect The Hershey Company HSY to beat expectations when it reports first-quarter 2016 results on Apr 26, before the market opens.
Last quarter, the company delivered a positive earnings surprise of 2.86%.
Despite sales remaining muted, the chocolate/confectionery company delivered positive earnings surprises in three of the past four quarters with an average surprise of 1.88%.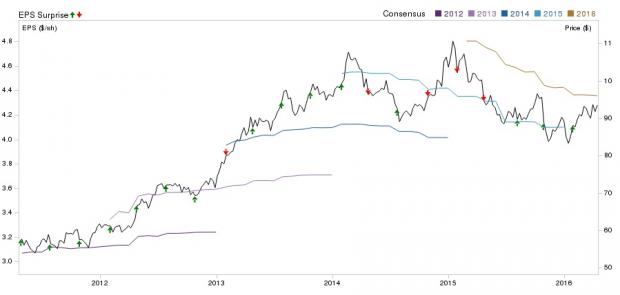 Let's see how things are shaping up for the upcoming announcement.
Why a Likely Positive Surprise?
Our proven model shows that Hershey is likely to beat earnings because it has the right combination of two key components.
Zacks ESP: Hershey's http://www.zacks.com/earnings/earnings-surprise-predictions/">Earnings ESP, which represents the difference between the Most Accurate estimate ($1.09 per share) and the Zacks Consensus Estimate ($1.06), stands at +2.83%. This is a meaningful and leading indicator of a likely positive earnings surprise.
Zacks Rank: Hershey has a Zacks Rank #3 (Hold). Note that stocks with a Zacks Rank #1 (Strong Buy), 2 (Buy) and 3 have a significantly higher chance of beating earnings.
Conversely, the Sell-rated stocks (Zacks Rank #4 and 5) should never be considered going into an earnings announcement.
The combination of Hershey's Zacks Rank #3 and +2.83% ESP makes us confident of an earnings beat.
Currently, the stock is trading at $91.59. We expect the release to lead to stock movement.
What's Driving the Better-than-Expected Earnings?
Hershey's top-line performance has been weak since 2014 due to soft international sales, lower retail store traffic and intense competition from the broader snacking industry in the U.S. In 2015, severe currency headwinds and lower-than-expected sales performance in China hurt sales trends significantly.
In China, broader macroeconomic weakness, slowing chocolate category trends and stiff competition from e-Commerce/online sales hurt results last year.
Also, the U.S. business underperformed in the last two quarters of 2015 due to slowing marketplace consumption trends.
Management anticipates that the unfavorable macroeconomic environment and competitive activity in the international markets will continue to be a headwind for the chocolate category and Hershey in 2016.
However, Hershey is investing in core brands in the U.S. as well as key international markets, focusing on snack items and working to improve sales trends in China. This could lead to improved sales trends in the first quarter of 2016 and the rest of the year.
Despite lackluster sales, Hershey was able to maintain relatively better margins on the back of price increases, supply chain savings and productivity gains. As a result, the company posted positive earnings surprises and year-over-year growth in the past three quarters. We expect the company to maintain the positive trend in the to-be-reported quarter as well.
Nonetheless, a shorter Easter, lower merchandising and inventory levels at select retailers and higher costs of simpler ingredients can put some pressure on first quarter profits. Hershey's is using simpler ingredients in its some of its chocolate products to cater to the growing number of health-conscious consumers.
Stocks to Consider
Some stocks in the consumer staples sector that have both a positive Earnings ESP and a favorable Zacks Rank include:
Church & Dwight Co. Inc. CHD with an Earnings ESP of +1.19% and a Zacks Rank #2.
Kellogg Company K with an Earnings ESP of +1.08% and a Zacks Rank #3.
Mead Johnson Nutrition Company MJN with an Earnings ESP of +2.41% and a Zacks Rank #3.
Want the latest recommendations from Zacks Investment Research? Today, you can download7 Best Stocks for the Next 30 Days. http://www.zacks.com/registration/pfp/?ALERT=RPT_7BST_LP194&... blog">Click to get this free report >>
Want the latest recommendations from Zacks Investment Research? Today, you can download 7 Best Stocks for the Next 30 Days.
Click to get this free report
KELLOGG CO (K): Free Stock Analysis Report
MEAD JOHNSON NU (MJN): Free Stock Analysis Report
CHURCH & DWIGHT (CHD): Free Stock Analysis Report
To read this article on Zacks.com click here.
Zacks Investment Research