XAU/USD (gold) fell today and then traded in a triangle. It continues a bearish correction that started on Monday.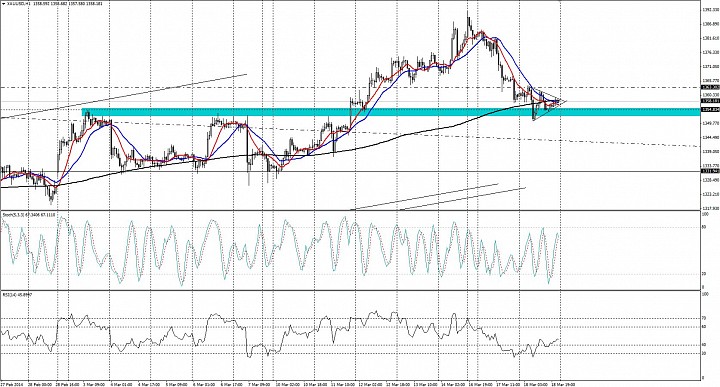 (Gold 1H Chart)
This dip brings gold price to a previous resistance area, which is so far acting as support for today's triangle. 
The triangle is not really important. Today's range of 1350-1364 should be monitored. Tomorrow we have the FOMC meeting and probably more development in the Crimea situation. Monetary policy and risk sentiment will be key factors during the 3/19 session.
I expect more tapering and more risk in the markets. Tapering should be good for USD, while risk should be good for gold, and usd in other pairs like EUR/USD, but not XAU/USD. 
Basically I expect events that should have opposite effects on gold. Let's see how these dynamics play out. I believe a breakout from should resolve the short-term direction based on the fundamentals during the 3/19 session.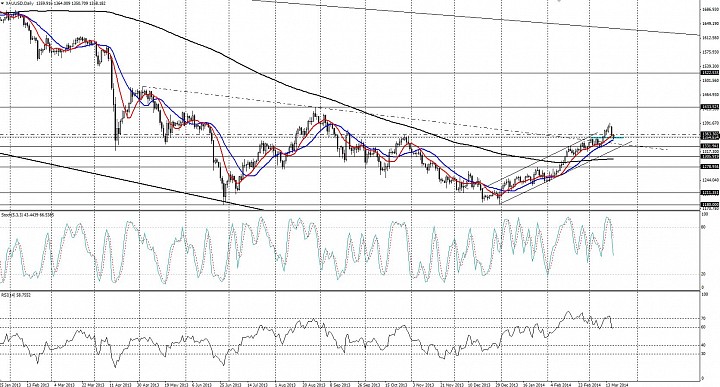 (Gold Daily Chart)\
A break above 1365 suggests bullish continuation, or at least a test of this week and last week's highs. a break below 1350 suggests further bearish correction that goes against the 2014 rally. 
Note that around 1330, we will meet some support factors, including a rising channel support. A break below this breaks a bullish pattern, and suggests some consolidation, in which case, I might look to fade a rally.